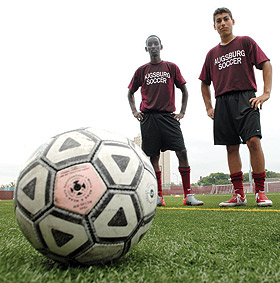 Sometimes during the second men's soccer practice of the day, Ahmed Gobana '12 will start to have muscles cramp up on him. Sherif Soud '13 starts to get a little shaky and feels especially dehydrated.
Preseason practices—regardless of the sport—can be tough for Augsburg's student athletes. Because classes have yet to begin, most teams are practicing twice a day in preparation for the season. The work is hard, the weather can be hot, and it certainly isn't as much fun as playing games.
Now imagine going through two practices a day without drinking any water or eating to refuel your body between practices. That's what Gobana and Soud are doing right now and will continue to do so until September 10.
Because in addition to being Auggie soccer players, the two are also Muslim students who are in the midst of Ramadan—a month in which the devout neither eat nor drink from dawn to dusk. Based on the lunar calendar, Ramadan moves from year to year, and this is the first time in many years in which it lands during preseason two-a-day practices.
"You never get used to it," Soud [pictured right] said after a recent practice. "But it's something you just push yourself to do. It's very important for Muslims. You cherish it."
Because of that, the two certainly live according to their alarm clocks. Each morning, they wake up at about 4 a.m. in order to eat and drink before sunrise. Gobana usually eats rice, pasta, drinks milk, water, and some Gatorade to stay hydrated. Soud tries to eat a lot of bread, some deli meat, and works to stay hydrated.
"I try to eat as much as I can," Gobana [pictured left] said. "But that early in the morning, it's difficult to eat."
After the sun goes down and they have logged several miles running during two practices, they eat and rehydrate. Both, however, said that they don't feel they can eat as much as they would like because it is as if their stomach shrinks during the day.
The physical well-being of all Augsburg student-athletes is very important. Because of the challenges of training while fasting, athletic trainers are paying particular attention to the two until the end of Ramadan. In addition, men's soccer coach Greg Holker has made sure the two know they should sit out a drill or training if they don't feel up to it.
Several times during Ramadan, the athletes will be in the middle of their second practice of the day when the sun sets. When that happens, they let coach Greg Holker know.
"You can't just jump out of a drill," Soud said. "But you definitely let the general know and he's good to let you go get some water. Sometimes we'll eat a banana right away."
Despite Augsburg's long Lutheran heritage,Soud and Gobana said they feel very comfortable here.
"I went to a Christian college in Michigan when I was a freshman (Calvin College)," Gobana said. "Me and my brother were about the only Muslims there. There's so much more diversity here, I have a lot of Somali friends here. When you compare them, Augsburg is more welcoming."
Soud said the rest of the Augsburg soccer players have been supportive of them and respect what they are doing.
"Some of them can't believe we go through two-a-days without eating or drinking," he said. "They say they are thirsty after just a little while, but they don't even like to say it around us."