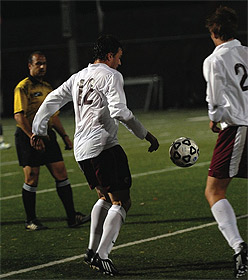 Men's soccer in Washington State for the first round of the NCAA tournament. And football at the Metrodome.
It will certainly a busier-than-normal Thursday for the Augsburg College athletic department.
Here's a quick primer on what's going on.
Soccer to face Whitworth University in first NCAA appearance
After losing the championship game of Minnesota Intercollegiate Athletic Conference playoffs to Carleton on penalty kicks, the Auggies received an at-large berth to the NCAA Division III men's soccer championship.
Augsburg (11-3-6) will travel to Spokane, Wash., to play Whitworth University (14-2-3) at 3 p.m. Thursday. The winner of that game will play at the University of Redlands (Calif.) on Sunday.
Whitworth enters the NCAA tournament after winning the Northwest Conference for the second consecutive year and the Pirates are making their fifth NCAA appearance since 2001.
Augsburg has been especially stingy defensively entering the NCAA tournament as the Auggies haven't given up a goal in the past 490 minutes of action. In the MIAC championship game, Carleton didn't score in regulation or in two overtime sessions.
Over the last 12 games, Augsburg has given up only three goals. For the season, Augsburg has surrendered just 10 goals while scoring 32.
Watch the game! Christensen Center Student Lounge at 3 p.m. Popcorn, pop and, beads will be provided. Feel free to bring snacks or treats to share!
Football is back at its second home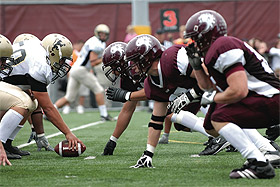 For the 19th consecutive season, Augsburg will play a game at the Metrodome. This year, the Auggies will host Bethel on Thursday night at 7 p.m. The game will be the 22nd appearance at the Metrodome since 1983, the most of any MIAC school.
The game against the Royals is an important one for Augsburg as the Auggies (5-4) will attempt to win six games for the first time since 1999.
While the game won't be played at Edor Nelson Field, tickets for the Metrodome game will be handled just like a game on the Augsburg campus. That means all Augsburg students, faculty and staff members can get into the game by simply showing ID. Tickets for the general public are $7 for adults and $3 for students.
There will be a free one-way shuttle bus from Augsburg to the Metrodome. The bus will leave from the front of Melby Hall at 6 and 6:30 p.m.
Free parking is available on the Metrodome upper lot, off of 11th Ave. S., near the intersection of 5th St. S. Fans can enter the Metrodome at Gate D beginning at 5:30 p.m. All fan seating will be on the east side of the field.