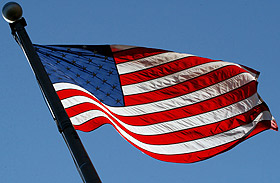 On Nov. 13, Augsburg College will hold a reception and celebration for students, faculty, and staff who are currently serving members of the military, their families, or veterans. This event will honor the military service of these members of the Augsburg community, give them a chance to connect with fellow veterans, and inform them of various benefits available.
"Providing an opportunity for this population to build community is one of the reasons for this event," says Michael Bilden, director of adult admissions and part of the military benefits committee. The group formed last spring to discuss ways Augsburg can better support the needs of veterans and military service members.
Augsburg is a certified Institute of Higher Learning for federal education benefits and currently enrolls more than 85 students who are active military members or veterans. In addition, since June 2006, Augsburg has offered a 10% military tuition discount for all Augsburg for Adults programs. This discount can be used by current military members, spouses of currently serving military members, and veterans of any branch of the United States Armed Forces.
"The Twin Cities region has a relatively large number of military members, and to show our support of veterans, military members, and their families, the discount indicates that we are indeed a military-friendly institution," says Bilden.
The reception will be held from 4 – 6 p.m. in the Marshall Room, Christensen Center. Food and refreshments will be provided. A short program will be presented at 4:30 p.m., including remarks by Augsburg President Paul C. Pribbenow and a presentation by Duane Bauer, the Central Metro Region Campus Rep from the Minnesota Department of Veterans Affairs.
To find out more about how Augsburg supports its current and former service members and their families, go to www.augsburg.edu/military.