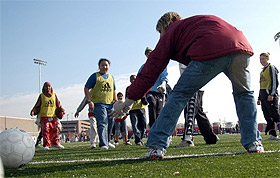 The Augsburg men's and women's soccer teams will take part in an effort to "kick breast cancer" with a unique camp on Friday, Aug. 15.
The Auggies will host a "Soccer Mom Camp" for women ages 18-80 at Edor Nelson Field, with proceeds going to benefit the Kicks Against Breast Cancer organization. The event will be held on Friday, Aug. 15, from 7:30 – 10 p.m.
The camp is designed to get women into the exciting action of soccer by providing a fun workout and interaction with members and coaches from the Augsburg men's and women's soccer teams.
Cost of the camp is $40 per mom. Each player gets a camp T-shirt. Parents can bring their children and they will have fun while the moms play on the field. Moms are encouraged to wear comfortable workout-style clothing and athletic shoes. Balls and water will be provided.
For more information, contact Augsburg men's soccer coach Greg Holker at 612-330-1424 or holker@augsburg.edu. To register, visit www.ecmiracles.org/eventslist/event?id=27.
The Soccer Mom Camp concept was founded in 2007 by the Marquette University men's soccer program. Kicks Against Breast Cancer (http://www.kicksagainstbreastcancer.com/) is a nationwide organization for American soccer to raise money to help find a cure for breast cancer, and to help those living with cancer to survive and thrive.