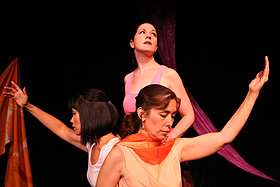 Theater-loving Auggies can enjoy the talents of yet another Augsburg theatre professor at this year's popular Fringe Festival. Martha Johnson's production of "Dipped in Love," a journey into the lives of women from three very different cultures, opens Aug. 1 at Mixed Blood Theatre.
Johnson, who recently completed her 20th year teaching and directing plays at Augsburg, says the play explores mature women's lives and choices, particularly choices that go against the rules of family and society, traditional religion, and the conventional female roles of wife and mother. It features women from India, Japan, and the United States.
The play's development began when Johnson received a sabbatical leave from Augsburg to write an original theater piece in the spring semester of 2004. Her sabbatical culminated in June of that year with a reading of an early draft of "Dipped in Love" at the Mu Performing Arts New Eyes Festival of New Plays.
Based on the June reading, the core artistic group of Mu Performing Arts selected the piece for further development as a new play-in-progress at the company's New Directions Festival the following season. It was given two staged performances, directed by Jen Weir, featuring professional actresses Maria Kelly, Katie Leo, and Augsburg theater alumna Carolyn Pool.
The play was fully staged as a New Directions Festival Workshop Production at Mixed Blood Theater in July, 2007. Because of the strong audience response, it was chosen by Mu Performing Arts for presentation at the 2008 Fringe Festival. The festival production of "Dipped in Love" is directed by Jen Wier and stars Momoko Tanno, Maria Kelly, and Jen Rives.
Johnson described her motivations for writing the play. "On the whole, women tend to be under-represented on the stage, particularly middle-aged women, in spite of the richness of their personal stories and mature insight. 'Dipped in Love' explores the sometimes painful, sometimes surprising, familial and societal repercussions of such choices. It portrays revolutionary changes in three women's views of family and marriage, from their strong beliefs in the rules and mores they absorbed as young girls, to the major life choices they have to make as women in their middle years. Artistically, the play combines theatrical storytelling, dialogue and monologue with choreographed movement and music to create a fictionalized work inspired by the lives of these three women."
Information about the Fringe Festival and bios of Johnson, Wier, and the three actresses can be found at www.fringefestival.org.
Photos — 2007 production featuring Maria Kelly, Katie Leo, and Carolyn Pool