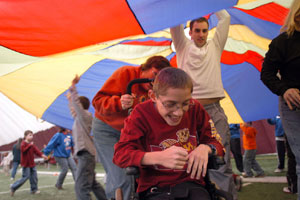 Since 1999, Augsburg Students from the Health and Physical Education Department (HPE) hold an annual one-day event for children with disabilities called "Sports Extravaganza."  Children with both mental and physical disabilities get the unique chance to use Augsburg's dome to participate in activities and games, including: parachute, cage ball, soccer, beach ball volleyball, relay races jump rope, and dance.
Augsburg students in the HPE 254 (Introduction to Development and Adapted Physical Education) class both organize and participate with elementary children in Grades 3-6 from Minneapolis, St. Paul, and other nearby suburban schools.  In this way, Augsburg students give back to their community, gain valuable experience working with children with disabilities, and everyone has fun in the process. Not only do the HPE students teach and interact with these young children, they also share encouraging messages and cheer the children to do their best.
Carol Enke, the director of Sports Extravaganza, is a HPE teacher at Augsburg College.  Enke and Nancy Rude Gordon started this event 9 years ago to create a unique learning experience for the HPE students.  The plan was to create valuable teaching experiences that otherwise could not be provided in the classroom setting.
This year's Sports Extravaganza is scheduled for Wednesday, Nov. 14 at 10 a.m. in the Augsburg dome.  Since its launch in 1999, the event has steadily grown in numbers.  Some 200-250 children with disabilities are expected to participate in the event this year.
The Augsburg dome, more formally known as the Seasonal Air Structure, is over the Edor-Nelson Athletic Field. Click here for a campus map.