15th annual event welcomes students from more than 25 Minnesota schools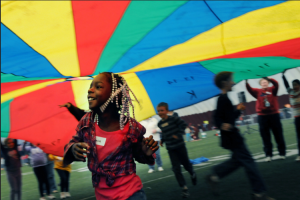 (MINNEAPOLIS)— Augsburg College physical education and exercise science students will use knowledge gained in the classroom to deliver smiles to more than 250 grade-school and middle-school children who will be at the 15th Annual Sports Extravaganza, a one-day event through which children with physical, cognitive and learning disabilities play on campus.
The success of Sports Extravaganza, slated for November 18, hinges upon the participation of Augsburg students. Together, students and faculty members create activity stations in the Augsburg Athletics dome and then assist children with each activity.
"Augsburg students take what they've learned in the classroom and then go out and do this event," said Carol Enke, Sports Extravaganza director and Augsburg College HPE instructor. "The young students come to campus, and they help [Augsburg] students grow."
Continue reading "ADVISORY: 250 children with disabilities play
November 18 at Augsburg Sports Extravaganza" →