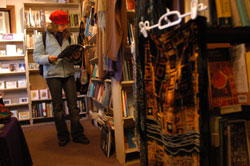 Looking for a unique holiday gift without having to deal with the long lines and crowded parking lots of a mall? Do you want your dollar to support locally owned, small businesses? Have you considered hand-made or organic gifts that not only "wow" your loved one but also help Third World artists make a living?
If you answered "yes" to any of these questions, have you shopped in the neighborhood recently? Within blocks of Augsburg's campus you can find several stores filled with unique and affordable gifts, perfect for family or friends.
Not just soup and bread
Just a block west of campus at 2001 Riverside you will find St. Martin's Table. Not only does this neighborhood favorite serve organic vegetarian food (with extended hours Tuesdays during Advent), but it also has a bookstore specializing in items promoting peace and social justice. The store is also brimming with unique gift possibilities such as Advent and Christmas books, jewelry, scarves, and music.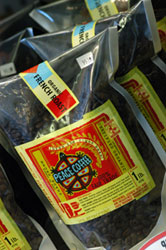 Items of interest include: Table Grace Dice , Gnomies—seven-inch Scandinavian-style, Ecuadorian-made dolls, a Women Artists date book, and CD's such as Bread for the Journey (featuring Augsburg's own Ray Makeever). December hours: M, W, Th, F 10 a.m. to 4 p.m., Tuesdays 10 a.m. to 8 p.m., Saturdays 9 a.m. to 5 p.m. Phone: 612-339-3920.
Nothing to 'yarn' at
Continue west and turn left on Cedar. You'll come to Depth of Field, which not only has a futon and fabric store, but also a yarn store that carries enough yarn that, if un-spun, could probably reach Alaska. If you need a gift for a knitter, a weaver, or someone who just likes to play with yarn, this is a shopper's paradise. Don't miss the sale loft upstairs.
Gift ideas: "eat sleep knit" T-shirts, weaving loom and hook, and every variety and color of yarn you can imagine. Hours: M-F 10 a.m. to 8 p.m., Saturday 10 a.m. to 6 p.m., and Sunday noon to 5 p.m. Phone: 612-340-0529 x 3.
'Made in China' with a twist
Just across the street is Global Village, which carries everything from incense and candles to pet toys and clothing to wooden masks. "Everything from this store is imported from other countries," says Ellen, the sales associate. "Our hats and mittens are very popular, and we also have a lot of baskets."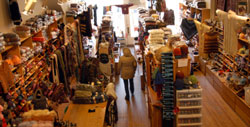 Gift ideas: Chinese ginseng soap, Afghani mittens, a hand-made purse, and Mexican ceramic "Circle of Friends" sculpture. (The legend says if you give a "Circle of Friends" to a person you care for, your bond of friendship will endure forever.) Hours: M-F 10 a.m. to 8 p.m., Saturdays 10 a.m. to 6 p.m., and Sundays noon to 5 p.m. Phone: 612-673-0366.
For the great outdoors
Need to buy a gift for the outdoor enthusiast in your life? Head north to Midwest Mountaineering at 309 Cedar Avenue South. Don't miss Thrifty Outfitters upstairs, with its half priced closeouts and not-quite-perfect items. Since 1970 this store has been the "best outdoor gear and clothing repair services this side of the Pacific."
Possible gifts include: fleece socks, Minnesota Weatherguide Environment Calendar, iPouch, and Timbuk2 Classic messenger bags. Hours: M-F 10 a.m. to 9 p.m., Saturdays 10 a.m. to 6 p.m., Sundays noon to 5 p.m. Phone: 612-339-3433.
Last, but not least
Short on time? Consider the Barnes & Noble at Augsburg College for your last-minute gift needs. Beyond textbooks and Auggie gear, you will also find unique gifts for all ages and tastes—from food for thought (books) to food for the body (chocolate!). Don't miss the table featuring beautifully made products from around the world sponsored by Lutheran World Relief Handcraft Project, which seeks to provide income, dignity and hope to artisans and their families. The bookstore also carries edunLive T-shirts, which support trade and employment opportunities in impoverished regions of sub-Saharan Africa.
Other gift items: pop-up snow globes, "magnetic wisdom" packages, and the bargain book table. Hours: M-F 8:30 a.m. to 6:30 p.m.; Saturdays 9:30 a.m. to 3 p.m. Phone: 612-359-6491.
So, before you muster up the courage to approach the mall, why not check out our local businesses? In addition to finding unique items, you will save the gas and make a nice walk out of it. (And, if you plan it right, you might just get to Midwest Mountaineering in time for the hot apple cider and Christmas cookies.)