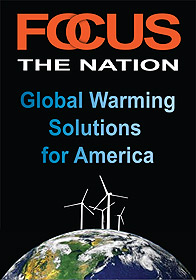 Augsburg College will host a Teach-In on Jan. 31, 2008 targeting a single issue — global warming solutions — as part of a national effort sponsored by Focus the Nation. The primary goal of "Focus the Nation: Augsburg College is to educate the Augsburg community about individual action and build momentum for permanent environmentally conscious practices and institutional actions. These actions include sustainable energy, zero-waste management systems, consumption awareness, and following the President's Climate Commitment.
Focus the Nation is a national organization that is pushing for global warming solutions in the United States. As their web site says, "In the next few years, we as a nation will make, or fail to make, critical decisions regarding global warming pollution and clean technology investments. These decisions will have far-reaching and irreversible impacts on the lives of today's students and the lives of their children. At this moment in time, we owe our young people at least a day of focused discussion about global warming solutions for America.
All presentations at the Focus the Nation Teach-In will be open to the public, though members of the Augsburg community are the target audience. Alex Hoselton, vice president of Augsburg's student government, thinks that Focus the Nation's message will be well received on campus. He points toward an ancient Native American proverb: "Treat the earth well: it was not given to you by your parents; it was loaned to you by your children. We do not inherit the Earth from our ancestors; we borrow it from our children. We are more than the sum of our knowledge, we are the products of our imagination."
Hoselton says, "What Focus the Nation is doing is realizing that. We have had tremendous support from faculty, staff, and President Pribbenow. We want this to be a success and are making it a success by contributing. That's what everyone needs to do to prevent global climate change. Ultimately, what we would like to see happen is to build momentum for action that permanently contributes to an ecologically conscious future.
All members of the Augsburg community, including alumni, students, faculty, and staff are able to give presentations at the Jan. 31 event. If you are interested in being a presenter, e-mail Hailen Bower with your name, and identify yourself as a professor, staff, alum, or student. Also, indicate what time you would like to present and your presentation's subject title.