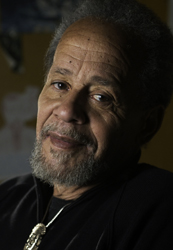 The 20th Annual Martin Luther King Jr. Convocation will be held Jan. 21, 2008, at 1 p.m. in Hoversten Chapel. The convocation, entitled "Visions of a Just Society: Dr. King's Legacy," will feature guest Ekwueme Michael Thelwell, professor of African-American Studies at the University of Massachusetts.
Michael Thelwell was born in Ulster Spring, Jamaica in 1939. After graduating from Jamaica College, he went to work as a public relations assistant for the Jamaica Industrial Development Corporation in 1958. He moved to the United States in 1959 and received a B.A. from Howard University and an M.F.A. from the University of Massachusetts at Amherst. Thelwell has worked as director for the Students Non-violent Coordinating Committee in Washington D.C., where he also worked for the Mississippi Freedom Democratic Party (1964-65). He has been a professor in the African-American Studies department at the University of Massachusetts at Amherst since 1969. He is the author of two screenplays, several articles and a novel, "The Harder They Come."
The Convocation is free and open to the public. For more information, call 612-330-1180.
UPDATE: The MLK committee will hold three discussions continuing the theme from the convocation. Martin Luther King Jr.'s book, "The Trumpet of Conscience" (1967), will be the basis for the discussions. The book chapters will be available via library reserve.
Monday, Jan. 28
Chapter 2: Consciousness and the Vietnam War
Facilitator: Veterans for Peace
Monday, Feb. 4
Chapter 1: Impasse in Race Relations
Facilitators: Dr. Jeff Kolnick
Monday, Feb. 11
Chapter 3: Youth and Social Action
Facilitator: Students protesting the School of the Americas
All meetings will take place in the Minneapolis Room from 11:30 a.m. to 1 p.m. Participants are encouraged to bring their lunches, while beverages and dessert will be provided.