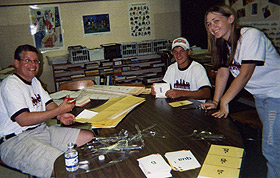 Senior Chris Stedman and junior Meagen Swartzer took their classroom learning to a neighborhood newspaper, The Bridge, and spent several months as interns there, learning the ropes
December graduate Chris Stedman and junior Meagen Swartzer didn't need to venture far from campus to hone their journalism skills. During the fall, they were interns at The Bridge, a local paper serving several neighborhoods along the Mississippi River. Last week's issue of the paper featured an article they wrote about Augsburg's Center for Service, Work, and Learning.
Stedman graduated with a religion major and minors in English and social welfare. He was actively involved on campus, with Campus Kitchen, Lilly Scholars, URGO summer research, and as arts and entertainment editor at the Echo. At The Bridge, he was part of the Urban Partners program, in which students use their work-study money at neighborhood nonprofit organizations.
"I'm so excited to have had the opportunity…," Stedman says. "I got to cover interesting stories that matter…and get out into the community to process what is relevant to those who live in the neighborhoods I frequent."
Swartzer is an English major, with a focus in media writing, and a minor in metro-urban studies. This was a first internship for her, and several of the articles she wrote, including this recent article with Stedman, were subsequently published online at The Twin Cities Daily Planet.
She called working at The Bridge "an amazing learning experience," which included fundamentals of journalism — interviewing, editing, and meeting deadlines. She says she couldn't have asked for a better first internship.
Stedman adds, "It was a fantastic opportunity to learn the ropes of journalism by actually doing it." And that is what the Center for Service, Work, and Learning is all about.