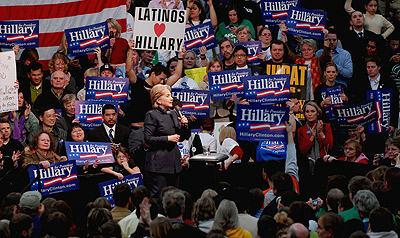 In line with Augsburg College's mission to foster civic engagement among its students and community, the campus hosted U.S. Senator Hillary Clinton and more than 4,000 potential voters on Sunday, Feb. 3.
A capacity crowd at Si Melby Gymnasium listened to the senator from New York talk about her vision for the future. Two hours before the event started at 4 p.m., lines of interested attendees snaked around the Kennedy Center, past the Air Structure, and through Parking Lot L.
An overflow crowd of approximately 400 were seated in the Air Structure (better known as the dome), where they viewed a telecast of the event as it took place in Si Melby. After her speech, Clinton worked her way through the crowd in Si Melby and greeted the overflow crowd in the Air Structure.
Clinton's visit brought with it a considerable amount of press coverage in both local and national media. Here is a list of links to a sample of that coverage:
New York Times – http://www.nytimes.com/slideshow/2008/02/04/us/politics/20080204CAMPAIGN_2.html
USA Today – http://www.usatoday.com/news/politics/election2008/2008-02-03-clinton_N.htm
New York Daily News – http://www.nydailynews.com/blogs/dc/2008/02/kickoff-time-in-minneapolis.html
Seattle Times – http://seattletimes.nwsource.com/html/politics/2004162438_camprdup04.html
Star Tribune – http://www.startribune.com/politics/state/15159891.html (includes video)
Minnesota Public Radio – http://minnesota.publicradio.org/display/web/2008/02/03/clintonvisit/
Pioneer Press – http://www.twincities.com/localnews/ci_8160102
KARE 11 News – http://www.kare11.com/news/ts_article.aspx?storyid=495905 (includes video)
WCCO News – http://wcco.com/local/hillary.clinton.presidential.2.645032.html (includes video)
FOX 9 News – http://www.myfoxtwincities.com/myfox/pages/News/Detail?contentId
=5668503&version=1&locale=EN-US&layoutCode=VSTY&pageId=3.2.1 (includes video)
A report of the Clinton campaign rally was published in a Norwegian
paper, as recounted by Augsburg Norwegian student Adel Homayouni.
He told the Romerike Blad that as a student studying economics, he
was very interested to hear Clinton's plans to bolster the economy
with a more-just tax system. He also mentioned that he enjoyed
greeting Clinton and shaking her hand.
Read (in Norwegian) the report of Adel Homayouni's observations of
the campaign rally and see his photos at http://www.rb.no/lokale_nyheter/article3327052.ece.
This is not the first time Clinton has visited the Augsburg campus. When she was First Lady, she spoke in the Hoversten Chapel.
For more information on participating in your Minnesota party caucuses being held in February and March 2008, please visit this Feb. 1 Inside Augsburg article.
Slideshow of photographs taken by Stephen Geffre at the Clinton event.