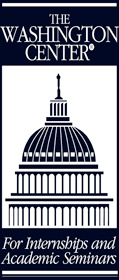 As was announced in December 2007, the Washington Center for Internships and Academic Seminars selected Augsburg as its partner for the Republican National Convention Seminar. The 2-week seminar will begin 1 week prior to the Convention, which will be held Sept. 1 – 4 at the Excel Energy Center in St. Paul. Augsburg will host 250 students from across the country who will interact with local and national politicians, journalists and others during the convention.
Spaces have been reserved for 20 Augsburg students (at a reduced rate) among the 250. To apply, do NOT use the Washington Center's web site. Instead, fill out the application form available in the Dean's Office (1st floor, Memorial Hall). Submit your completed application form to the Dean's Office by Monday, Feb. 11 at 5 p.m.
The Washington Center Seminar will cost $500 for Augsburg students and will run from Sunday, Aug. 24 – Friday, Sept. 5. Students accepted to the program will be required to participate in a resume writing workshop conducted by the Center for Service Work and Learning. Students will have the option of staying at the Washington Center's hotel (Holiday Inn Metrodome) if there is space available. More information about the availability and cost of hotel accommodations will be sent to applicants. Students are not required to stay in the hotel to participate in the seminar.
Please send all inquiries to Bridget Robinson-Riegler, Assistant Dean of Academic Affairs (e-mail: robinson@augsburg.edu or 612-330-1498) or her assistant, Vinni Thongthi (e-mail: thongthi@augsburg.edu or 612-330-1024).
In addition to the Washington Center Seminar, Augsburg students can earn academic credit by enrolling in one of the following related opportunities during the fall term (these courses are NOT required to participate in the Seminar):
POL 326 (Political Parties and Behavior)
Independent Study (299 or 499) with Augsburg faculty interested in working with students on a project linked to the Convention or the 2008 Presidential Election
Internship (199 or 399) with Augsburg faculty interested in working with students on a project linked to the Convention or the 2008 Presidential Election