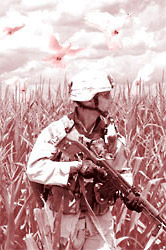 "Peace and War in the Heartland, " a peace-and-war education project that focuses on the moral and constitutional issues of war, will offer several events at Augsburg College throughout the day of Feb. 20. The project is attempting to foster an inter-generational dialogue and discussion about the issues facing those of draft age (18-25 years old) in current and past military conflicts.
The project's visit to Augsburg lands in the middle of a schedule that takes it around the Twin Cities from Jan. 15 – March 9, including the University of Minnesota and Macalester College. For more information on these off-campus events and on the project itself, please visit www.pwh-mn.org .
The Anne Pederson Women's Resource Center is sponsoring the project's events at Augsburg on Feb. 20, and the theme for the day's events is "Women and War." All of these events will be held in the East Commons of the Christensen Center:
9 a.m. – "Women and Military Leadership," presented by Ann Wright, U.S. Army Colonel (ret.), resigned from U.S. State Department over Iraq War
10 a.m. – "The Draft Lottery," dramatic re-enactment of a selective service lottery
10:30 a.m. – "VetSpeak Panel," veterans discuss the volunteer army, the draft, and role of women; moderated by Ann Wright
11 a.m. – "Who Will Speak for the Victims?" presented by Elizabeth de la Vega,
author, former federal prosecutor in Minn. and Calif.
Noon – "Women Warriors: Is this Equality?" presented by Chante Wolfe, Vets for Peace
2 p.m. – "The Hidden Cost of War: Civilians and the Environment," presented by Mary Beaudoin, Women Against Military Madness (WAMM)
4 p.m. – "Why Women's Voices Are Unique: Passing the Torch," panel discussion moderated by State Rep. Karen Clark
5:30 p.m. – "Ann Wright – My Personal Journey," presented by Ann Wright, U.S. Army Colonel (ret.), resigned from U.S. State Department over Iraq War