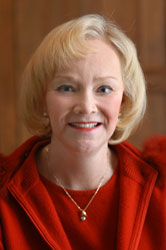 Ruth E. Johnson, MD '74 will speak in Vocatio Chapel on Wednesday, Feb. 20, at 10:20 a.m. in the "Science as Vocation" series, as part of Exploring Our Gifts: The Augsburg College Lilly Grant.
Johnson is a consultant in the Department of Internal Medicine at Mayo Clinic and assistant professor of medicine at Mayo Medical School. Her major interests are medical education, medical ethics and women's health. She founded the Mayo Breast Clinic in 1993 and continues in patient care, education and research for women with benign and malignant breast disease, and women at high risk for breast cancer.
Majoring in chemistry and biology at Augsburg, Johnson earned her bachelor's degree summa cum laude, graduated from Mayo Medical School and completed her residency at Mayo Graduate School of Medicine. In 1996 Johnson was named a Distinguished Alumna; in 2007 she rejoined Augsburg's Board of Regents. She is married to Phil Quanbeck II, chair of Augsburg's Department of Religion.
A luncheon at 11 a.m. follows the chapel service. To RSVP for the luncheon or for more information, e-mail Ross Murray at murray@augsburg.edu or call x1151.