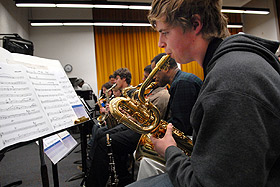 For the past week, the Augsburg Jazz Ensemble has stretched themselves musically in an in-depth exploration of the music of Duke Ellington. In partnership with the VocalEssence choral ensemble, Augsburg once again participated in their WITNESS program, which celebrates the music of African-Americans.
Music Department Chair Bob Stacke recruited a "big band"-style orchestra that included high school, Augsburg, and professional players. For the "High School All Star Jazz Band," he worked with music teachers in five Minneapolis public high schools and the Walker West Music Academy in Saint Paul to put together a band of talented players. They were joined by Jazz Ensemble members and professionals Larry Sims (trumpet) and David Wright III (saxophone/clarinet), who served as mentors to the students and played with them in the orchestra. The High School All Star Jazz Band was featured in "C Jam Blues."
On Tuesday and Wednesday, in four performances with 8,000 school children at the Ordway Center for Performing Arts, Stacke led the musicians as they re-created an old-time radio show, Duke Ellington on the Air. The highlight, performed with the VocalEssence Chorus and baritone soloist Dennis Spears, was "Sacred Concerts" — a very difficult fusion of jazz, classical music, choral music, spirituals, gospel and blues. Stacke says it took a great deal of in-depth practice for the Jazz Ensemble to back up VocalEssence so the instrumentals and vocals could work together.
"Our students did an extraordinary job in a very difficult show," Stacke said. "I'm extremely proud of the very professional job they did." He explained that Ellington wrote the sacred music suite for his band, which included musicians who had played together for 30 years or more.
Recruiting the High School All Star Jazz Band for WITNESS was Stacke's idea. He had taught in the Minneapolis Public Schools and wanted to offer opportunities for music students to learn and grow from the Ellington music and work with VocalEssence. He sees what he does as part of Augsburg's mission in the community that connects the College with the rich diversity of students in Minneapolis.
This year for the first time, WITNESS also added a family community concert, performed Sunday at Hopkins High School, that gave the student musicians an opportunity to play for their families and the general public.
WCCO-TV coverage:
http://wcco.com/video/?id=38185@wcco.dayport.com (VocalEssence preview)
http://wcco.com/video/?id=38615@wcco.dayport.com (Ordway Center performance excerpt)