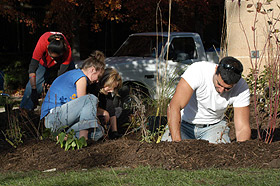 This spring, Augsburg introduces its newest creation — the Environmental Studies major. This interdisciplinary program combines biology, chemistry, political science, history, literature, economics, math, communications, and social work to teach students how to conserve the world around them.
Through each discipline, students learn about real-world issues like global warming, energy use, and pollution. Then, they apply this knowledge to develop and produce solutions, such as the three water gardens designed and built by the Environmental Connections course earlier this academic year.
The rain gardens collect water that would otherwise run into the storm drains and eventually into the Mississippi River, which is where the majority of Twin Cities residents get their drinking water. As rainwater collects in the garden, the root systems of plants native to Minnesota filter out pollutants such as lawn fertilizer, grass clippings, and automotive waste.
The Environmental Studies major focuses on ecological issues in an urban context, taking students out of the classroom to experience firsthand how city residents affect nature. In addition, students see how disadvantaged communities often bear the costs of abuse and misuse of the environment. The new major's comprehensive approach to both ecological quality and social justice reflects Augsburg's commitment to these issues.
In addition to raising awareness of ecological hazards and engaging students in action, the Environmental Studies program seeks to prepare students for life after college. Their training in science, policy, and the humanities aims to shape students into informed, articulate leaders who will have an impact on our future.
Visit the Environmental Studies web site at http://www.augsburg.edu/environmental/ for more information about the new major and minor.
Special thanks to Erin Johnson and Michael Lansing for their contributions to this article.