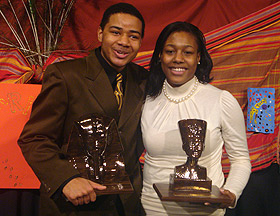 Two Augsburg students returned with royalty from the annual Pan African Student Leadership Conference, held at Minnesota State University, Mankato. On Saturday, Feb. 23, at the Mr. and Mrs. Pan Africa Talent Ceremony, first-year student Geoffrey Gill was named Mr. Pan Africa and sophomore Barbara Simmons was selected as first runner-up for Mrs. Pan Africa.
Twenty-three Augsburg students attended the 3-day conference, with this year's theme, "Building Leaders for the Pan African Community: Our Individual and Collective Responsibilities." Workshops and sessions focused on issues facing students of color, such as health care in communities and African-Americans in higher education.
This theme sought to "tie together the experiences of all African peoples, whether they are African-American, African-Caribbean, or others, in hopes of learning something that might be shared," suggested Mohamed Sallam, Augsburg's director of Pan-Afrikan Student Services.
Upon return to their own campuses, Sallam said, students turn their conference experiences into programming ideas for the Pan-Afrikan Student Union and other organizations — topics for discussion, suggestions for speakers, and the like.
The Pan African Student Leadership Conference is in its 32nd year at Minnesota State. Augsburg's participation dates back many years to the early days of the Pan Afrikan Center, founded by M. Anita Gay Hawthorne.
Nominations for the Mr. and Mrs. Pan Africa Talent Ceremony are made by fellow students. Gill was nominated following his piano and vocal performance in last fall's Anita Gay Hawthorne Jazz and Poetry Bash. His academic interests are in psychology as well as youth and family ministry. Simmons, with an interest in sports management, read poetry in the conference competition.
Sallam and Jennifer Simon, American Indian Student Services director, traveled with the students to Mankato. For them it was a homecoming of sorts, as both had previously worked at Minnesota State, Mankato, and have attended this conference.