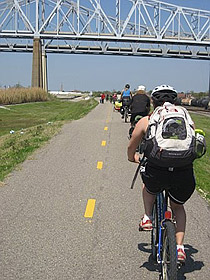 "There is absolutely no way 15 bikes are going to fit on one bus," the Greyhound lady told us, her hair standing on end like an aggravated feline. It was early morning on March 15. We stood at the bus, laden with our luggage, equipment and tents.
"We" were the Pedalers for Peace, and this was the all-too-appropriate beginning to what turned out to be the most unpredictable and completely eye-opening spring break.
The initial plan was simple — 13 students, one advisor, and their bikes would travel to New Orleans and tackle the 100-mile road to Biloxi, Mississippi. The idea was to camp and volunteer along the way. But the Greyhound lady took that plan out of the realm of possibility, so we turned to Plan B.
Crunched for time and unwilling to give up, we decided to get on the bus, without our bikes, and see what New Orleans had to offer. What followed were five days that brought us to eye-level with the people of the city and their realities.
We had planned to set up tents by the St. Bernard Projects, a huge public housing development that had been flagged for demolition. As we began, New Orleans policeman promptly told us that camping there was against the law. Our host, the camping space coordinator, generously offered us the two intact rooms of his Katrina-ravaged home and backyard. The setting was shocking at first, but as we settled in and got to know our neighbors, the situation became enlightening.
On our second day, we obtained bikes from a program called RUBARB that refurbishes and sells old bikes, while also teaching children how to revitalize bikes as an alternative to more destructive hobbies.
We biked from one corner of New Orleans to another looking for people or places to help. We volunteered a few days at The Green Project, a housing supply recycling center that encouraged residents to deconstruct their homes in order to make doors, windows, railings, or bricks available for re-use. We also helped out in people's homes — painting, pulling weeds, whatever we could do.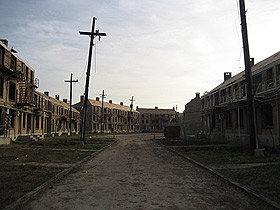 Some of our group witnessed protests against the St. Bernard Projects demolition. We heard moving stories about the displacement and homelessness of impoverished people and the utter cold-shoulder that has been shown them by the government. During one protest, an older woman climbed over the barbed-wire topped fence to walk silently and slowly, her cane at her side, to the site where she ascended to the top of a bulldozer and succeeded in stopping the flattening for a few hours.
In the end, the trip was really about learning. Instead of Pedaling for Peace in a straight line, we found ourselves biking in circles, seeing many of the same things, places, people, and situations every day. In doing so, we learned more about the situation facing New Orleans today than we could have imagined.
Article by Malena Thoson, pictures by Beth Franklin
Pedlars for Peace weren't the only Augsburg students visiting New Orleans — read about Campus Ministry's service trip on their blog.