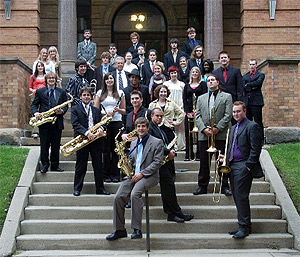 Sara Horishnyk isn't afraid of a little self-promotion. Just ask, and this gregarious Auggie will tell you about her latest adventures and where her band, Bigbody Applehead, is playing next. Last spring, the Augsburg College senior pitched herself and the idea of taking on an intern to Dakota Jazz Club co-owner, Lowell Pickett. "It took him a long time to decide," she said, but eventually Sara got the job.
At first, the Dakota staffers didn't know what to do with their first-ever intern, so Sara was assigned ticketing work in the office. Soon, her organizational skills and enthusiasm landed her the responsibility of booking hotels and transportation for nationally known artists such as Dr. John, Allen Toussaint, Hugh Masekela, John McLaughlin, Toumani Diabate, Booker T. & the MG's, and many others. She continues to work part-time for the club, even taking phone calls from a musician's frantic stage manager while she was on tour with the Augsburg jazz band this past year.
Of her internship, Sara says, "It was better than any class I've ever taken…" because the hands-on experience taught her about the music business and also about herself. She learned that being assertive was essential to the pursuit of her goals. "My internship taught me a lot more than just going to a business class — knowing what you want, planning it out, and actually achieving your goals." she added.
Now, the entire Augsburg jazz band, including Sara, will be playing the Dakota.
While the Auggies might not be the biggest name among all the gigs that Sara has helped coordinate at the Dakota, this spring jazz concert will be a highlight of her year. "The Dakota is the premiere jazz club in the Midwest," she said. She hopes jazz band director Bob Stacke will want to make the Dakota performance an annual event, giving Sara the opportunity to work with her alma mater.
The Augsburg College Jazz and Gospel Praise ensemble spring concert will be held Sunday, April 27 at 4 p.m. at the Dakota Jazz Club, 1010 Nicollet Mall, Minneapolis. Sara's band, Bigbody Applehead, will open for the performance beginning at 3:30 p.m. For directions to the club, go to www.dakotacooks.com. Go to Sara's MySpace page for more information on her band, www.myspace.com/bigbodyapplehead.