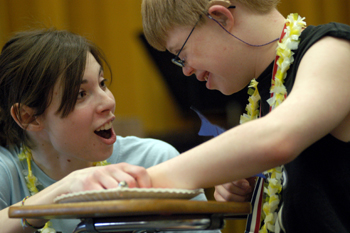 On Friday, April 18, Augsburg College will host the seventh annual Metro
Arts Festival, a collaborative festival between the Augsburg Music
Therapy Program and VSA Arts of Minnesota.
Over 100 Twin Cities middle school students with disabilities will take part in this year's "Everyone's a Rock Star" event. The middle schoolers will attend sessions including "Don't Forget the Lyrics," "Rocker Apparel 101," and "Intro to the Beats." Members of "The Abdomen" — a sibling pop-rock group that was voted "Best Teenage Musicians" by the Twin Cities Music Academy — will also perform.
The festival, funded through the National Endowment for the Arts, focuses on the concept of strength, emphasized by activities, to empower the students and encourage artistic expression.
The collaboration is a valuable one for all involved. Augsburg's approximately 40 music therapy students gain valuable experience while providing musical and artistic activity.
Augsburg College is the only private college in the state of Minnesota to offer a Music Therapy major. The Music Therapy major at Augsburg emphasizes theory, practice, and research and follows the standard education requirements set forth by the American Music Therapy Association.