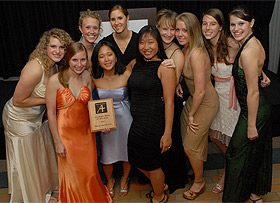 The inaugural Auggie Awards were recently held at Augsburg College, celebrating
the individual and team successes of the 2007-2008 season. While in
past years, men's and women's athletic departments have each held their
own end-of-season banquets, this ceremony combined the team and individual
awards.
There were differences in the structure of the event, most notably that senior athletes were recognized in a reception hosted by President Paul Pribbenow and Athletic Director Jeff Swenson before the main ceremony. The reception commemorated the seniors' years of participation, awards, and honors. Regarding this acknowledgment, senior women's soccer player Erin Gave said, "It was a great way to end the year for the seniors. I really enjoyed it; my favorite part was definitely how they made the seniors stand out."
Senior men's basketball player Derek Francis agreed, adding, "I really enjoyed it and am glad it was a little different than in past years. It was nice that the organizers rewarded the seniors for their commitment to Augsburg athletics. It was also really enjoyable seeing everyone dressed up and all the sports mingling."
First-year women's basketball player Shannon Renne said that while this was her first experience with an awards banquet at Augsburg, it is an event she now looks forward to next year. A recipient of the Female Rookie of the Year Award, Renne said, "I thought the Auggie Awards were a lot of fun and it was a great way to get all of the athletic teams together and celebrate the successful seasons. It was an honor to win the award, and it was a great opportunity to be able to come in and contribute as a freshman this year."
Another award recipient for Female Outstanding Athlete of the Year, dual-sport athlete Tiffany Magnuson, said that while she was happy to have received the award, she felt equally as shocked. Magnuson said, "I feel honored to have been nominated for the award. All the nominees deserved recognition, and to win was truly unexpected." In addition to the excitement of being honored with such an award, Magnuson added that she was pleased overall with the structure of the awards, drawing a parallel between the banquet and the athletic community at Augsburg.
"I thought the Auggie Awards ceremony was a great idea, and that it was a nice way to end the school year and have all the teams come together. That's what Augsburg Athletics is about: coming together to support one another…we support each other by going to each other's
games and events, and we should therefore acknowledge one another's accomplishments," said Magnuson.
Below are the award-winners in each category given on Monday night.
For full biographies of the winners, go to www.augsburg.edu/athletics/awards/08awardwinners.html
Men's Honor Athlete (Co-Award Winners) — Nick Manders (SR, De Pere, Wis./West De Pere HS), Men's Soccer; and Jason Weber (SR, New Prague, Minn.), Football
Women's Honor Athlete — Jackie Keller (SR, Traverse City, Mich./Traverse City West HS), Women's Soccer/Women's Hockey
Men's Outstanding Athlete of the Year — Royce Winford (JR, Brooklyn Park, Minn./Osseo HS), Football
Women's Outstanding Athlete of the Year — Tiffany Magnuson (JR, Green Bay, Wis./Notre Dame Academy HS), Women's Hockey/Softball
Men's Rookie of the Year — Craig Henry (FY/SO, Lino Lakes, Minn./Centennial HS), 2007 Baseball
Women's Rookie of the Year — Shannon Renne (FY, Nicollet, Minn.), Women's Basketball
Men's Team of the Year — Wrestling (10-2-0 in dual meets, 3rd at NCAA Division III National Championships, 3rd at NWCA Division III National Duals, 1st at NCAA Division III Great Lakes Regional)
Women's Team of the Year — Women's Soccer (9-7-3 overall, 7-3-1 MIAC–3rd/12, MIAC playoff qualifier)
Men's Most Improved Team of the Year — Football (5-5 overall, 3-5 MIAC–5th/9 in 2007; 1-9 overall, 1-7 MIAC–8th/9 in 2006)
Women's Most Improved Team of the Year — Volleyball (13-16 overall, 4-7 MIAC–9th/12 in 2007; 11-17 overall, 2-9 MIAC–t11th/12 in 2006)
Outstanding Academic Team — Women's Track and Field, 3.51 team GPA (pictured above)
Men's Student-Athlete with Highest GPA — Kevin Graff (SR, Red Wing, Minn.), Men's Golf, 3.912 GPA
Women's Student-Athlete with Highest GPA — Tori Bahr (JR, Brainerd, Minn.), Women's Cross Country, 4.00 GPA
Article by Katie LaGrave
Slide show of photographs taken by Stephen Geffre at the 2007-2008 Auggie Awards.