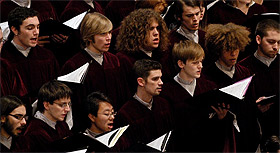 In the early morning on the day after May commencement, 60 Augsburg Choir members, their director, the tour manager, and an additional faculty representative will board two tour buses and set off on the 2008 choir tour. The group will present its home concert in Hoversten Chapel on Friday, May 2 at 8 p.m. followed by performances in eight different cities from Illinois to Virginia.
The year-end performances, according to director Peter Hendrickson '76, DMA, are the requisite capstone of the singers' learning experience. He said, "Music is a threefold process: the composer writes a piece, the choir learns the music, and the choir performs before an audience. This sequence is how music is brought to fruition, and it only occurs in performance. Thus, the end product of this academic discipline is where students learn the art of bringing music to life."
The choir also uses the tour as an outreach opportunity, connecting with alumni and donors and promoting Augsburg to future students. The group will sing in the home congregations of two choir members: senior Alex Grangaard '08 of Tiffin, Ohio, and Cassandra Sanders '09 of East Dundee, Illinois.
Grangaard is looking forward to singing in Illinois. "I'll be not only singing at my home congregation, but also my old choir director is the head of music for my church. This means a lot for me because he was a mentor for me growing up but also because he got me into choir in the first place," he said.
The tour is not all singing and driving. The choir will have time in our nation's capital to explore the sights and will travel through the famous Shenandoah National Park (a part of the Blue Ridge Mountains) en route from Washington, DC to Harrisonburg, Virginia.
A complete spring music department schedule including the tour concert itinerary is available at www.augsburg.edu/music.
Choir tour by the numbers
2,964 — miles traveled on tour
423 — gallons of diesel used
130 — words sung in Warum ist das Licht gegeben by Johannes Brahms
60 — choir members
14 — years Peter Hendrickson has directed the Augsburg Choir
12 — works performed per concert including encore
10 — days of travel
8 — tour stops
2 — buses and drivers
1 — home concert on Friday, May 2