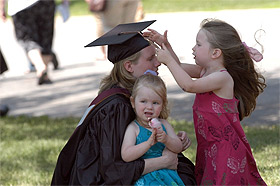 On Sunday, June 29, Augsburg will hold its second commencement ceremony of this academic year. This ceremony honors graduates of the undergraduate programs in Minneapolis, United/Mercy/Unity Hospitals, and Rochester as well as the Master's degree candidates in Education, Leadership, Nursing, Social Work, and Business Administration.
The commencement speaker is Mark S. Hanson '68, presiding bishop of the Evangelical Lutheran Church in America. Prior to his first term as presiding bishop, he was bishop of the Saint Paul Area Synod. Ordained in 1974, he has served three congregations in the Twin Cities.
Augsburg will also present honorary degrees to Medardo Gomez and Koryne Horbal at the June ceremony.
Medardo E. Gomez Soto
For 20 years, Bishop Medardo Gomez Soto has served as the only bishop of the Lutheran Church in El Salvador.
During the violent civil war in El Salvador between 1982 and 1992, and under constant threat and at great risk, the Lutheran Church offered refuge and aid to victims of the war. Bishop Gomez was jailed and tortured during this period and forced to seek asylum away from El Salvador for a time. Upon his return home, he was instrumental in negotiating a peace agreement between the government and the leftist liberation group.
Numerous honors have been bestowed upon Bishop Gomez for his humanitarian work, most notably a nomination in 1992 for the Nobel Peace Prize.
Koryne E. Horbal
Ambassador Koryne E. Horbal has worked tirelessly throughout her life to empower women around the world and give voice to their issues. A native of Minneapolis, she has been active in Minnesota politics for more than 40 years. She was the first woman to serve as state chairperson and was a founder of the Democratic Party Women's Caucus.
She is most acclaimed for her work in the United Nations, which took her around the world meeting with women and striving to bring their issues to national and international agendas. In 1976, President Jimmy Carter appointed her as Fifth Ambassador to the United Nations and U.S. representative to the UN Commission on the Status of Women, part of the UN Economic and Social Council — a post she held for four years.
With Augsburg's Anne Pederson Women's Resource Center, Horbal has been a loyal and energetic supporter for events, fundraising, and the annual lecture series that bears her name.
Visit www.augsburg.edu/commencement for information about events surrounding the June commencement ceremony.