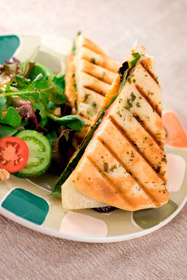 Augsburg's new campus dining services provider is a Midwest-based company with "a passion to serve great food from great people." A'viands (the name means "a delectable dish") was selected this spring by a committee of faculty, staff, and students.
"We're thrilled to be at Augsburg," said president and COO, Rick Sorel. "This is our largest account, and we are excited about the sense of partnership we see here."
Though they didn't officially begin operations at Augsburg until June 1, Sorel and other members of the A'viands team have been on campus regularly in the past weeks preparing for the transition.
Sorel said A'viands is committed to providing variety, ethnically diverse food choices, and organic and locally grown foods. He added that they will also strive to support the community by providing internships and working to maintain Augsburg's Campus Kitchens program.
A'viands offers a comprehensive wellness program called "Fit Choices 4 Life." The program includes signage for healthy options on the daily menu, table tents, a nutritional education center, and a wellness challenge. They also plan to present periodic complimentary healthful cooking classes for the community.
In addition to new signage, Augsburg could see other changes in the main dining area including the removal of a wall and redesign of the serving area. While there will be new faces on campus, A'viands is retaining 45 of the previous Sodexo staff, so we're sure to see our favorite people at lunch time.
The company plans to set up a web site with a blog, menus, catering options, and to provide an opportunity for campus community members to give feedback. Augsburg's kitchen will also be used as a test market for new menu ideas.