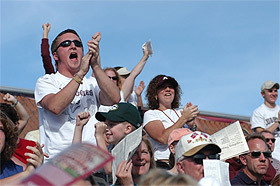 Free admission. Free food. Free $2 bet.
What's with all this free stuff? It's Auggie Night at the Races, a fun-filled evening for Augsburg alumni, faculty, staff, and students at Canterbury Park. Every year since 2005, Curt Sampson, Canterbury's owner and a former member of the Augsburg Board of Regents, has opened his doors to the Augsburg family for an exciting night of live horse racing. This year's event will be held Thursday, Aug. 7.
Since its first year, Jack Osberg '62 of the office of Alumni and Parent Relations has attended Auggie Night at the Races with his family. The event gives Osberg, who coached Augsburg football for 14 seasons, an opportunity to reminisce with former Auggie football players and other athletes and to meet their families.
Sally Daniels '79 and Amanda Storm, also of Alumni and Parent Relations, encourage staff and faculty to attend. "It's a great way to connect with alums," Storm said, "and to hear about their Augsburg experience." Daniels added that she enjoys going to the races because it's a sporting event she doesn't usually get to see. "I love learning how the races work and cheering for the horse I bet on," she said.
Want to join us for Auggie Night at the Races? Load up the car with your family and friends, don't forget your mosquito spray, and make your way to Canterbury Park. We'd love to see you there! The gates open at 5:30 p.m., and the first post is at 7 p.m. Canterbury Park is located off of Highway 169 in Shakopee. For directions and information, go to www.canterburypark.com.
Contact Becky Taute tauter@augsburg.edu or Amanda Storm storma@augsburg.edu to RSVP by Wednesday, Aug. 6.