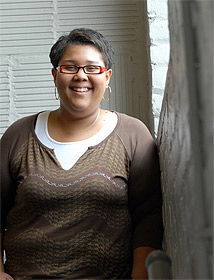 It should come as no surprise that a school like Augsburg College, with its commitment to opening doors to first-generation and under-served students, would attract alumni of the Admission Possible program. Over the years, Admission Possible has provided a bridge — from St. Paul to Minneapolis — for many of Augsburg's staff members, in particular those who have joined our admissions or student service teams after completing their service at Admission Possible. Recently, the bridge traffic flowed in the other direction when Ashley Booker (pictured left), a student in the Master of Arts in Education program at Augsburg, started a new job.
Ashley, a St. Paul native, began working with Admission Possible this summer as a program coordinator. In this role, Ashley supervises six AmeriCorps members, known as Admission Possible coaches, who assist students in three St. Paul area high schools — Arlington High School, Highland Park High School, and Community of Peace Academy. The coaches work with juniors and seniors on ACT preparation and assist with applications for admission, financial aid, and scholarships.
Her passion about achieving equality in education and providing equal access to higher education drew Ashley to Admission Possible. "Some kids have no idea that college is even an option for them, and some want to go to college but have no idea how to navigate the application process," Ashley said. Admission Possible has made college a reality for many students.
Access to higher education is important to Ashley because she sees it as a way to tighten the racial and socioeconomic gaps in academic achievement and to address the lack of diversity on college campuses. She says she is both angered and saddened by the fact that she is often been the only person of color in many of her college courses. "Until all students have equal access to resources including higher education, I believe the achievement gap will persist," Ashley said. "Everyone has the right to pursue an education, and I am dedicated to making that process more inclusive."
Ashley plans to complete her graduate program in 2009 and is interested in a career in educational policy. At Augsburg, Ashley said she has learned the importance of culturally responsive teaching, creating inclusive learning environments, and accommodating learners with special needs. These lessons, she believes, will help guide her work at Admission Possible and as a future policy-maker.
Admission Possible is a nonprofit organization dedicated to helping promising low-income high school students prepare for and earn admission to college. Admission Possible works to make college possible by providing their students with ACT and SAT test preparation, intensive assistance with college applications, help in applying for financial aid, and guidance in the transition to college. Admission Possible currently serves 1,300 students at 17 high schools in the metro area, and has helped 98 percent of its students earn admission to college since its founding in 2000.
The newest Augsburg staff members who have made the journey from AP to Augsburg are Justin Nash, an undergraduate admissions counselor, Andy Haug and Steve Fenster in the Enrollment Center, and Kelly Strang, the new Luther Hall director. All four finished their terms of service in June and were quickly hired by Augsburg. Janet Bertok, another undergraduate admissions counselor and Michele Kidwell, Augsburg's director of retention, were also involved with Admission Possible through the AmeriCorps program. Watch for their stories in an upcoming feature.