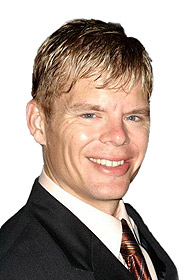 In a few short weeks, more than 45,000 Republican delegates, party officials, volunteers, and members of the media will be in the Minneapolis-St. Paul metro for the 2008 Republican National Convention. From September 1-4, the Twin Cities will host the 39th nominating convention for the Republican Party, the second nominating convention to be held in the Twin Cities. The convention will take place in St. Paul's Xcel Energy Center and will result in the nomination of the Republican candidate for the 2008 presidential election.
Minnesota's participation in this aspect of the democratic process also brings opportunities to our Augsburg campus. Because of its commitment to civic engagement and service learning, Augsburg was chosen by the Washington Center for Internships and Academic Seminars to host 250 students from across the country for a 2-week seminar in conjunction with the RNC. Twenty-three Augsburg students will participate in internships through the program, each working in the preparation and planning stages of this event to learn about the behind-the-scenes efforts involved with a national convention. Augsburg communication studies professors Bob Groven and Kristin Chamberlain are serving on the faculty of the Washington Center Seminar.
This week we feature Eric Franzen (pictured left), a graduate student in education, and Shannon Backes, a junior studying international business. Check back in a few days for more profiles
<!–, and go to www.augsburg.edu/getpolitical for more profiles and the most current report on Augsburg's role in the RNC–>
Eric Franzen — Master's in Education
After receiving a B.A. in piano performance from the University of Minnesota, Eric decided to pursue a master's in education at Augsburg. Along with his love for music, Eric also enjoys politics. "I began my fascination with politics several years ago. I experienced some dramatic changes in my fundamental ways of living and soon began to question the rhetoric that we hear repeated so often around us." This year, Eric has been involved in many different political events, including his neighborhood caucus, district convention, the state convention, and now the national convention. Eric is also a candidate for the House of Representatives in SD60a of Minneapolis.
"The process and power for the citizens of the United States to sway government and elect anyone they feel like is truly amazing." Eric's goal for the convention is to learn as much as possible about the process by immersing himself into it. "I hope to meet and learn from the respected leaders and thinkers of this country," he said.
Shannon Backes — Junior
This Spring Lake Park native will begin her second year at Augsburg this fall. She began her college career as a PSEO at Bethel University and now studies international business at Augsburg. Shannon also has a minor in German and plans to study abroad in Mosbach, Germany in the spring of 2009. Shannon remembers her family's tradition of discussing political issues at family gatherings. "I became interested in politics during long conversations with family members about controversial issues. When I heard different sides of an issue, I would research on my own in order to have my own opinion for the next debate." While working in the summer, Shannon listens to talk radio shows, such as Rush Limbaugh and Sean Hannity, to hear the latest news in politics. "They have great insight among others such as Ann Coulter, Jason Lewis, Bill O'Reilly and Laura Ingraham." After graduation, Shannon hopes to live in Germany while working for an international firm.
Story by Amanda Symes, contributor