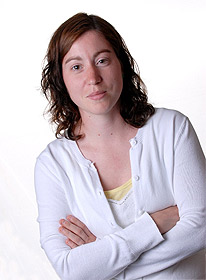 In a few short weeks, more than 45,000 Republican delegates, party officials, volunteers, and members of the media will be in the Minneapolis-St. Paul metro for the 2008 Republican National Convention. From September 1-4, the Twin Cities will host the 39th nominating convention for the Republican Party, the second nominating convention to be held in the Twin Cities. The convention will take place in St. Paul's Xcel Energy Center and will result in the nomination of the Republican candidate for the 2008 presidential election.
Minnesota's participation in this aspect of the democratic process also brings opportunities to our Augsburg campus. Because of its commitment to civic engagement and service learning, Augsburg was chosen by the Washington Center for Internships and Academic Seminars to host 250 students from across the country for a 2-week seminar in conjunction with the RNC. Twenty-three Augsburg students will participate in internships through the program, each working in the preparation and planning stages of this event to learn about the behind-the-scenes efforts involved with a national convention. Augsburg communication studies faculty Bob Groven and Kristin Chamberlain are serving on the faculty of the Washington Center Seminar.
This week we feature Feras Amr, a Weekend College graduate, and Meagen Swartzer (pictured left), a senior studying English and metro urban studies. Check back in a few days for more profiles<!–, and go to www.augsburg.edu/getpolitical for more profiles and the most current report on Augsburg's role in the RNC–>.
Feras Amr — Graduate
Feras graduated this past June from the WEC program with a degree in organizational communication studies. He grew up in Palestine where party loyalty, or even participation, is very different than here in the US. "Party loyalty could get you in to trouble where I come from." After coming to Minnesota in May of 2001, Feras began to look into American politics. When he heard about the Washington Center opportunity to be apart of the RNC, he put his name in. "Not all Americans get a chance to see a convention, so if I have the opportunity, why not?" Feras wants to meet the people in power and make a connection with them. Being a Communication major, the RNC will be a rich experience for him and will be a way to see what happens on the media floor. Because Feras speaks Arabic, Hebrew, and English, he will be working with Al Hurra, an Arabic language satellite television network for the Middle East that will be delivering news and information about the RNC.
Meagan Swartzer — Senior
Meagan (pictured above) is an English media writing major and metro urban studies minor. Last year, she worked as an intern at The Bridge, a Minneapolis neighborhood newspaper, and this year she will be interning at the RNC. Meagan says her father and older brother are strongly opinionated about politics. "I guess their influences have rubbed off on me," she said. Attending the convention will be a way for Meagan to learn as much as possible about politics and the political process and to meet many interesting people. "I am starting to realize that if I want to make a difference I have to get educated and involved. Attending the Republican National Convention is my way of accomplishing both." Meagan is grateful for this opportunity and knows that the knowledge she gains at the convention will "carry with me forever".
After graduation, Meagan would like to work either on a community newspaper or with a city planner. She is also considering graduate school for city planning or library science.
Story by Amanda Symes, contributor