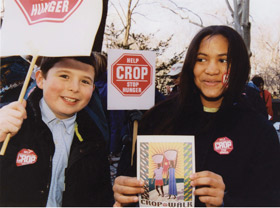 The annual Minneapolis Communities Responding to Overcome Poverty (CROP) Walk commences this Sunday, October 12 at 2 p.m., with registration beginning at 1:30 p.m. The walk begins and ends at the Oren Gateway Center on Riverside and 21st Avenues on the Augsburg College campus.
The CROP Walk is a Church World Service event that raises funds for international development and sustainable agriculture projects as well as for local organizations. CROP Hunger Walks help children and families worldwide — and right here in the U.S. — to have food for today while building for a better tomorrow. Each year some two million CROP Walkers, volunteers, and sponsors put their hearts and "soles" in motion, raising more than $16 million to help end hunger and poverty around the world — and in their own communities.
This year for the second time, Augsburg College President Paul Pribbenow is the honorary chairperson.
"I've been involved in efforts to support the Church World Service's CROP program since I was a youngster growing up in southern Wisconsin," said Pribbenow. "The work that CROP does in helping to alleviate world hunger is inspiring to me and an example of faith in action that I think we all should support. We invite congregations, individuals, and organizations to join us for a fun walk next Sunday and to help support and advocate for God's work in the world–helping to ensure that all of God's people are fed."
The Minneapolis Metro CROP Hunger Walk shares 25% of the funds it raises to assist in local hunger/poverty programs. Each of these agencies will each receive 6.25%:
The Brian Coyle Food Shelf
The Groveland Emergency Food Shelf Youth Program
The Youth Farm and Market Project
The Minnesota Council of Churches' Refugee Services
Go to www.cropwalkonline.org for more information or to register. Click on Minnesota and on the Minneapolis walk on October 12. You can also register in-person on the day of the event. For more information, please contact Mary Laurel True 612-330-1775, truem@augsburg.edu or Marie Sager at sager@augsburg.edu. Information is also available in the Campus Ministry Office in Foss Center.
Photo: Beryl Goldberg, www.churchworldservice.org