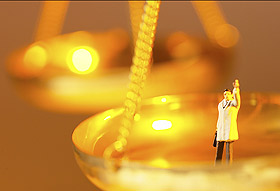 The Augsburg College MBA program in Rochester will hold a business ethics summit panel presentation on Thursday, Oct. 16 at 7 p.m. at the Rochester site. Featured panelists are Mayo Clinic CEO Dr. Glenn Forbes, Crenlo LLC CEO and president Lance Fleming, Rochester Post Bulletin managing editor Jay Furst, and Apollo Liquor and Hospitality president Ari Kolas.
The Business Ethics summit will provide the four panel members an opportunity to discuss ethics and moral decision making in their organization. Panel members will briefly discuss how ethics is a part of their culture and business conduct, and also plays a part in their relationships and dealing with external stakeholders. The open audience Q & A will be a significant part of the event, where panel members will respond to specific audience questions following their individual presentations.
Augsburg-sponsored ethics summit is timely from the Rochester Post-Bulletin, Oct. 13, 2008
This summit is part of the "Connecting with the Community" learning event series, which provides Rochester area residents and students with an opportunity to learn about business, leadership, management, and other key topics of interest as told by area business and nonprofit organization leaders. All events are free and open to the public.
The presentation will be held in Bethel Hall at Bethel Lutheran Church, 810 3rd Avenue SE, Rochester and is free and open to the public. No registration is needed. The next Rochester summit featuring regional marketing and advertising executives will be in late January.