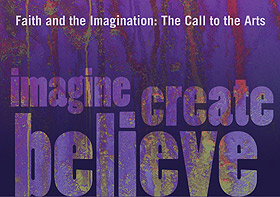 The Art has always been a part of personal faith lives. From religious icons, to hymns of praise, worshippers have used art as a tool to pray and praise. Songs and hymns give praise to God. Paintings and sculptures depict stories from scripture to let the worshipper understand the story in a new way. Dramas have brought sacred stories to life.
The 2008-2009 Vocatio Chapel Series, "Faith and the Imagination: The Call to the Arts" continues on Oct. 15 with pastor and potter David Greenlund of Peace Lutheran Church in Lauderdale, Minn. He has started an arts ministry at his congregation called the Artists Way.
The Artist's Way is a gathering of people from the neighborhood, the University and the church itself. Their desire is to support, challenge, and artistically work together for the sake of consciously catching glimpses of the Spirit for each other and those in their lives. The result has been seen and heard in the creation of labyrinths, paintings, drawings, writing, storytelling, and music for the liturgy and worship space.
David is himself an accomplished potter, designer, and ceramic artist. Some of his work will be on display in the chapel while he is visiting.
The vocatio service is held at 10:20 a.m., during the daily chapel time. Students, faculty, and staff are invited to join Pastor Greenlund for lunch following chapel at 11 a.m. in the Riverside Room. To RSVP, email murray@augsburg.edu.