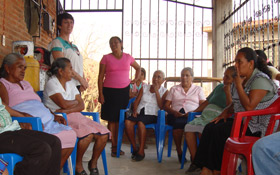 For the past 28 years, Augsburg's Center for Global Education (CGE) has offered Women's Studies courses in Mexico as a way to internationalize class curriculum by crossing international borders and expanding learning experiences. This past July, CGE offered a faculty development program in Cuernavaca, Mexico for women's studies faculty who were interested in globalizing their courses. During the seminar, professors from several disciplines had the opportunity to meet with many Mexican women who have had significant influences in the Mexican academic world.
Professors met with the Mexican government's Instituto de la Mujer (Women's Institute) to discuss national policies and programs for women, had a guest lecture by Juliana Garcia Quintanilla, the co-director of the Independent Human Rights Commission for the State of Morelos, to discuss women and human rights, and took an excursion to the town of Tejalpa to meet with grassroots organizer Alicia Arines, a former candidate for mayor of Tejalpa, who leads workshops for base Christian communities.
"It is important to internationalize our curriculum by crossing international borders and meeting directly with women studies scholars and community leaders in different nations," said Ann Lutterman-Aguilar, the Augsburg site director in Cuernavaca who presented this program. "Since an increasing number of U.S. citizens are of Mexican descent, Mexico is a particularly appropriate place to begin to examine the best practices in globalizing women's studies."
The CGE staff immersed professors in a broad variety of women's works and struggles in Mexico, including a guest lecture on feminism in Mexico and indigenous women in the Zapatista Army for National Liberation by Mexican anthropologist and psychologist Dr. Sylvia Marcos.
"I got the opportunity to see first-hand the things that I have been studying and teaching," said Jessica Nathanson, director of Augsburg's Women's Resource Center and assistant professor in women's studies. "The program was useful to me as a program director and faculty member of women's studies who seeks to globalize the curriculum so that it has an international rather than simply a U.S. focus." Jessica is planning to return to Cuernavaca with her own students in the future to learn more about globalizing the classroom.
Augsburg offers two semester programs and summer programs that include women's studies courses, including "Crossing Borders: Gender and Social Change in Mesoamerica" and "Migration & Globalization: Engaging Our Communities." For more information on these offerings, go to http://www.augsburg.edu/global/spa/gensem.html.
Article by Amanda Symes