The Augsburg College Board of Regents will gather Friday and Saturday for its fall meeting, welcoming five new members. These members were elected to four-year terms on the at the annual meeting of the Augsburg Corporation Governing Board in September.

Mark A. Eustis is president and CEO of Fairview Health Services. He has previously held administrative positions in health care in St. Louis and taught healthcare administration at Washington University.
Eustis has a bachelor's degree in business administration and a master's degree in healthcare administration from the University of Minnesota. He is active in national and local healthcare-related organizations and community non-profits.

Alexander J. Gonzalez '90 is a senior financial advisor at Thrivent Financial for Lutherans and is a member of the Stonebridge Group, a values-based team with a non-commissioned structure. He has received several awards in the financial industry for his service and expertise.
Gonzalez graduated from Augsburg in 1990 with a bachelor's degree in business administration–marketing/economics. He currently is president of the board at La Oportunidad.

Eric J. Jolly has been president of the Science Museum of Minnesota since 2004, and led the museum through its centennial year in 2007. He is recognized nationally for his commitment to improving the achievement gap and education in STEM (science, technology, engineering, and mathematics).
Jolly earned his bachelor's degree in psychology, with a minor in physics, from the University of Rhode Island. He has both master's and doctoral degrees in psychology from the University of Oklahoma.

Gloria C. Lewis has been president and CEO of Big Brothers Big Sisters of the Greater Twin Cities since 2005, following more than 25 years of experience in public and non-profit administration, most recently as director of the Minnesota Department of Health's Office of Minority and Multicultural Health.
Lewis has a bachelor's degree in psychology from Hampton University and a master's degree from Boston University.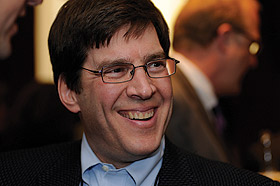 Marshall S. Stanton, MD, is vice president for clinical research and general manager of the cardiac rhythm disease management business of Medtronic, Inc. His prior experience includes serving on the faculty at Mayo Graduate School of Medicine.
Stanton earned his bachelor's degree from the University of Pennsylvania and his medical degree at the Medical College of Virginia. He was a fellow in cardiology and electrophysiology at Indiana University and a Mayo Scholar.
In addition, Anthony L. Genia Jr., MD '85, was re-elected to a second four-year term on the board.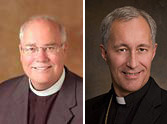 Appointed to three-year terms on the board, ex officio, are Bishop Craig E. Johnson (left), Minneapolis Area Synod of the ELCA, and Bishop Duane C. Pederson (right), Northwest Synod of Wisconsin, ELCA.