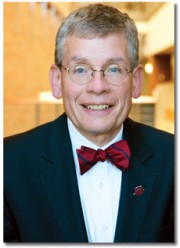 The Augsburg College Board of Regents, in its October meeting, unanimously voted to renew the contract of President Paul C. Pribbenow for another six-year term.
"In these volatile times in higher education, we are blessed to have Paul Pribbenow as our president," said Paul S. Mueller, M.D., '84 and chair of the Board of Regents. "We agree with the comprehensive review that shows that Paul brings exceptional intelligence, commitment, energy, and integrity to his work, and he continues to grow in effectiveness."
In a letter to the Augsburg College community, Mueller also said that Pribbenow's renewal was based upon multiple factors, including a comprehensive review that included input from more than 120 faculty, staff, administrators, alumni, partners, and community leaders, as well as Pribbenow's response to the review and his accomplishments over the past several years.
Since joining Augsburg in 2006, Pribbenow has enhanced the College's role as an active community partner in its urban setting. In that time, the College has achieved national recognition for its excellence in service learning, experiential education, and interfaith service. Pribbenow also has become a leader among the 26 colleges and universities of the Evangelical Lutheran Church in America (ELCA), helping to articulate the gifts shaping and supporting Lutheran higher education in the 21st century. Pribbenow has led Augsburg College in the development of new mission and strategic vision statements that anchor the institution's priorities and initiatives, shaping the College's strategic plan, Augsburg 2019. He has advanced the College's top priority—a state-of-the-art education center housing academic programs in science, business, and religion, among others—and has played key roles in cultivating donor relationships and in attaining the largest philanthropic gift in Augsburg College history.
The contract between the Augsburg College and Pribbenow runs through 2021. Pribbenow is the 10th president of Augsburg College, a private liberal arts college associated with the ELCA and located in Minneapolis, and is recognized as one of the country's most engaging commentators and teachers on ethics, philanthropy, and American public life. Learn more about his work and presidency.