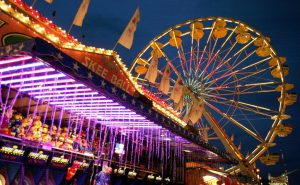 The Star Tribune's John Reinan talks with Augsburg Psychology Professor Bridget Robinson-Riegler about how the Great Minnesota Get-Together "not only entertains us, excites us and exhausts us — it makes us Minnesotans."
"Our identity is formed by our memories. Traditions and rituals are very important in identifying who we are," said Robinson-Riegler, who specializes in the study of memory. "Families are based on shared experiences, and this is one of those shared experiences we have as a state. The State Fair becomes a collective experience. It gives us a sense of belonging, of togetherness.
"This is what we do as a state. It confirms our identity. It becomes who we are."
Read the full article at the Star Tribune site.