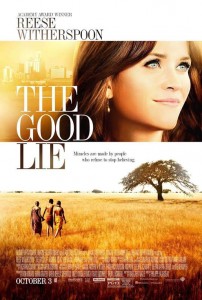 Kuoth Wiel '13 visits Twin Cities for advance screening of 'The Good Lie'
Augsburg alumna Kuoth Wiel '13 finished the final semester of her undergraduate education from afar, trading the College's Minneapolis campus for film sets in Georgia and South Africa. Wiel is featured in a supporting role in "The Good Lie," a drama about refugees from Sudan learning to navigate life in the United States with the help of a character played by Oscar winner Reese Witherspoon.
Wiel, a psychology major with Sudanese heritage, has been touring to promote "The Good Lie" since the film premiered at the Toronto Film Festival in early September. She will introduce the Twin Cities' first screening of "The Good Lie" on October 14, and the Augsburg College community has been invited to take part in the event. Auggies also can acquire free tickets to an advance screening on October 16.
Ticket information is posted in the October 10 edition of Augsburg's Daily A-mail.
To learn more about the film, visit thegoodliemovie.com/.