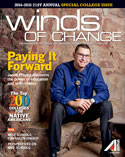 The American Indian Science and Engineering Society's Winds of Change magazine has selected Augsburg as one of the Top 200 Colleges for Native American and Alaska Native students pursuing degrees in science, technology, engineering, and math.
The list features colleges and universities "where American Indians are going to school in significant numbers and where the community, Native programs, and support are strong enough for these students to enjoy college and stay on to graduation," according to Winds of Change. Likewise, this year the list includes data measuring undergraduate degrees in science, engineering, technology and mathematics-related disciplines for all students and for American Indians.
Augsburg College was one of only five Minnesota institutions to make the Top 200 list, which was published in an annual special college issue designed to inform and inspire college-bound students and their parents, teachers, and counselors.