Gift from 1965 Augsburg College alumnus is largest in College's history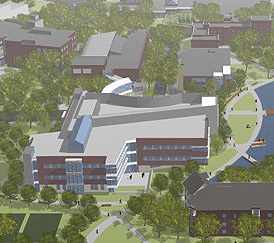 Augsburg College is honored to announce that it has received an unrestricted $10 million philanthropic gift from a 1965 alumnus.
The donor's generous contribution will support a new academic building that will house a number of the College's academic programs including biology, business, chemistry, computer science, math, physics, psychology, and religion.
"This tremendous gift will make possible our continued commitment to academic excellence, to the hands-on learning that is one of the hallmarks of the College, and to the continued best-use of our 23-acre campus," said Augsburg College President Paul C. Pribbenow. "Augsburg is a 143-year-old anchor institution in the heart of Minneapolis' Cedar-Riverside neighborhood. This gift puts Augsburg on the path of being a college for the 21st century, and one that continues to deliver academic excellence in the liberal arts and professional studies."
"Augsburg College has found many ways to innovate and evolve since I was a student—while at the same time maintaining the core values that were so appealing to me," said Augsburg College Regent Steve Wehrenberg '78, chief executive officer of Campbell Mithun. "This gift will ensure the College remains a caring, inspiring, and delightful place for students of all kinds to learn and grow."
New building fund exceeds $23 million
The $10 million gift brings to more than $23 million the total funds for the new building. The Augsburg College Board of Regents will continue to monitor progress on the campaign and the College's cash position and debt capacity to determine when to set a date for groundbreaking on the first stage of the building. The total cost of the building is estimated at more than $60 million.
"In May 2012, the Regents set calendar year 2014 as a target for beginning construction, a goal they believe is feasible, especially given the excitement this lead gift will engender with other prospective donors," Pribbenow said.
The donor, who asked to remain anonymous, is a long-time supporter of the College and graduated with bachelor's degrees in mathematics and business administration.
Augsburg College is set in a vibrant neighborhood at the heart of the Twin Cities, and offers more than 50 undergraduate majors and nine graduate degrees to nearly 4,000 students of diverse backgrounds. Augsburg College educates students to be informed citizens, thoughtful stewards, critical thinkers, and responsible leaders. The Augsburg experience is supported by an engaged community that is committed to intentional diversity in its life and work. An Augsburg education is defined by excellence in the liberal arts and professional studies, guided by the faith and values of the Lutheran church, and shaped by its urban and global settings.