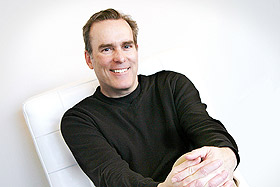 MINNEAPOLIS — Steve Wehrenberg, chief executive officer of Campbell Mithun, was elected this fall to serve a four-year term as a member of the Augsburg College Board of Regents.
Wehrenberg '78 holds a bachelor's degree in English from Augsburg College and is a 30-year veteran of the advertising industry. He became Campbell Mithun's CEO in 2007 and since has provided expert leadership for many of the company's most successful and award-winning campaigns.
"I am excited to reconnect with the Augsburg community," Wehrenberg said. "The institution has grown and evolved since I was a student. It's a surprising and delightful place for students of all kinds to learn and grow."
Wehrenberg recently was a distinguished presenter for Augsburg College's Strommen Executive Speaker Series. He teaches a strategic communications graduate course at the University of Minnesota, and he has co-written a new edition of "The Successful Marketing Plan." As a Board of Regents member, Wehrenberg will serve on the finance and the enrollment management and marketing committees.
"Steve brings to Augsburg's governance invaluable talents and experience from his work at Campbell Mithun," said Augsburg College President Paul C. Pribbenow. "He will engage our College community in strategic conversation around enrollment planning and market position. And, Augsburg is fortunate to have a high-caliber professional like Steve sharing our College vision and mission in circles that reach far beyond campus."
Wehrenberg's volunteer work includes serving on the board of the Greater Twin Cities United Way. He is a member of Grace Lutheran Church in Apple Valley, Minn.
In addition to Wehrenberg's appointment, the Augsburg Corporation this year elected three other individuals to four-year terms on the Board of Regents. They include:
– Jennie Carlson, executive vice president of human resources for U.S. Bancorp;
– Pam Moksnes '79, management consultant; and
– Curt Sampson, chairman and director of Canterbury Park Holding Corporation.
Jodi Harpstead, CEO of Lutheran Social Service of Minnesota, was elected chair of the Augsburg College Board of Regents at its May 2012 meeting and began her term on July 1.
Augsburg College is set in the vibrant Cedar-Riverside neighborhood of Minneapolis, and offers more than 50 undergraduate majors and nine graduate degrees to more than 4,000 students of diverse backgrounds. The trademark of an Augsburg education is its emphasis on direct, personal experience. Guided by the faith and values of the Lutheran church, Augsburg educates students to be informed citizens, thoughtful stewards, critical thinkers, and responsible leaders.