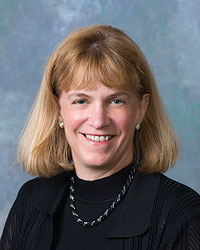 Jodi Harpstead, chief executive officer of Lutheran Social Service of Minnesota (LSS), was elected chair of the Augsburg College Board of Regents at its May 2012 meeting and began her term on July 1.
As chair of the governing board of the College, Harpstead will play a key leadership role in Augsburg's planning and fundraising initiatives. She will guide the Board's oversight of the College's strategic priorities, including:
– Helping define the plan to build a signature academic building, the Center for Science, Business and Religion;
– Ensuring the quality and relevance of the academic offerings; and
– Monitoring the development of a long-range enrollment plan for the college.
Harpstead has served on the Board of Regents since 2005.
"Jodi brings diverse talents and experience from her work as an executive with LSS and previously at Medtronic, and has outstanding leadership, planning, and fundraising skills. She will be a strong partner with me and the faculty in guiding the college," said Augsburg College President Paul C. Pribbenow. "Outgoing Regent Chair Mike Good '71 provided four years of outstanding stewardship and leadership for Augsburg, and now is turning the reins over to a capable and skilled colleague."
Harpstead said she looks forward to leading the Regents at a time of change for all higher education institutions, and to ushering new projects at Augsburg.
"This a very exciting time for Augsburg College as higher education experiences dramatic change, and we continue to educate leaders in service to the world," Harpstead said. "I am especially excited about the potential of our innovative new Center for Science, Business, and Religion and what it can teach all of us about the questions at the intersections of these and other disciplines."
Other Regents elected to serve as officers include:
– Vice Chair Paul Mueller, M.D. Mueller '84, leads the Internal Medicine department of Mayo Clinic in Rochester. He joined the Board of Regents during 2005.
– Treasurer Dan W. Anderson '65, is retired as chairman of AdvisorNet Financial in Minneapolis. He joined the Board of Regents during 2003.
– Secretary David L. Tiede, elected to the Board in 2010, served for many years as president of Luther Seminary and then as the Bernhard M. Christensen Professor of Religion and Vocation at Augsburg.
In September 2011, Harpstead was named Chief Executive Officer of LSS, Minnesota's oldest and largest human service nonprofit with a mission to express the love of Christ through service that inspires hope, changes lives and builds community. Prior to her position with LSS, Harpstead worked for 23 years at Medtronic Inc., including as president of global marketing and U.S. sales in the Cardiac Rhythm Management Division. She served on boards including Thrivent Financial for Lutherans and Delta Dental Plan of Minnesota. She holds a Master of Business Administration in Finance from Michigan State University.