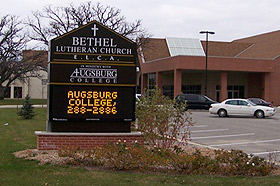 Augsburg College will celebrate the tenth anniversary of the founding of its Rochester program with an open-house reception on Tuesday, Oct. 28 from 6:30-8:00 p.m. at the Rochester location in Bethel Lutheran Church, 810 3rd Ave. SE. A short program will begin at 7 p.m. with comments from Augsburg College President Paul Pribbenow, Barbara Farley, dean and vice president of academic affairs, and Rick Thoni, the founder of Augsburg's Weekend College and Rochester programs.
At the suggestion of Augsburg regent, Ruth Johnson, Thoni started a satellite location in 1998 in Rochester to offer a degree completion program to nurses at Mayo Hospital. Thoni said Rochester, the second largest urban area outside the Twin Cities and also one of the ELCA synod seats, had unmet educational needs that Augsburg was prepared to meet, particularly in the area of adult education. "Augsburg is an urban college with a model that was created for working adults," Thoni said.
Karl Wolfe, who succeeded Thoni as the Rochester director in 2007, says the vision for the program has not changed since its founding. "That vision established by Rick Thoni–to deliver quality liberal arts degree programs to adult learners in the Rochester and the southeast Minnesota area–has served as a solid foundation for our work and will continue to guide us into the future," Wolfe said.
The first classes for nursing students were offered at Zumbro Lutheran Church where then Augsburg Regent Gary Benson was the head pastor. In 1999 the program moved to Central Lutheran School in Rochester, added computer science as a major option, and began offering the first graduate nursing courses. In subsequent years, additional majors and graduate study options were added. In 2004, classes moved to their current location at Bethel Lutheran Church near downtown Rochester.
"Augsburg in Rochester has been a wonderful success for both the college and the city because we have found meaningful connections between Augsburg's strengths in educating diverse students and the Rochester area's needs for an educated work force," commented Pribbenow. "We look forward to our continuing relationships in Rochester and to strengthening our presence in response to community needs and priorities," he added.
The site started with 63 students in 1998 and has grown to 250 in the undergraduate program. More than 125 students are currently enrolled in graduate courses at the Rochester site. The program offers bachelor's degrees in business and management information systems, communication studies, education, and nursing and master's programs in education, nursing, and business.
The open house will be preceded by a book signing from 4:30-6 p.m. by professor of nursing, Susan Nash. Her book, "On the Edge: Nursing in the Age of Complexity" explores Complexity Science principles and the profound implications they hold for clinical practice, leadership, nursing theory development, research, policy making, and understanding human physiology.