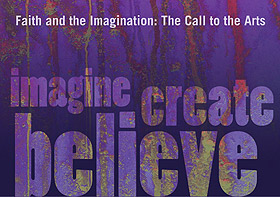 Art has always been a part of personal faith lives. From religious icons, to hymns of praise, worshippers have used art as a tool to pray and praise. Songs and hymns give praise to God. Paintings and sculptures depict stories from scripture to let the worshipper understand the story in a new way. Dramas have brought sacred stories to life.
The 2008-2009 Vocatio Chapel Series, "Faith and the Imagination: The Call to the Arts" continues on Nov. 12 with Aimee K. Bryant. Often lauded as one of the Twin Cities' finest musical theater performers, Aimee K. Bryant has finally released her highly anticipated debut CD. "Becoming" captures the blossoming of this singer/songwriter like a storyboard of still photographs in nonlinear detail. This CD is a journey to self-love. Aimee's voice is silk and sandpaper: smooth and sweet enough to make you think you could be listening to an angel, with a touch of grit that brings you back to the street. That combined with her catchy melodies and uncommonly intelligent lyrics make Becoming an instant indie classic.
Steeped in gospel harmonies and black consciousness, the influence of the city and its music resonate in the poetry and delivery of Aimee's compositions. Aimee learned her way around a recording studio by putting in time writing and singing background vocals for former Jimmy Jam and Terry Lewis protégé Lance Alexander when Baby Honey Records was still in Minneapolis. Aimee holds a BFA with a concentration in musical Theatre from Howard University. While in D.C. she sang with the Howard Gospel Choir and did some background gigging for gospel heavy-hitters Yolanda Adams, LaShun Pace, and BeBe and CeCe Winans. Aimee has been filling the short gaps between plays with on-camera, voice over and jingle work, as well as gigging and recording with other musicians and spoken word artists. Her work is featured on the albums of Truth Maze, Sha Cage, Nazirah P. Mickey, and local folk legend Larry Long. Aimee has also become the voice of Yohannes Tona Band, an afro-funk jazz ensemble that doubles as her band. Still, while acting and gigging on stages across the country and landing national commercials and jingles she was also turning her experiences into poetry and melody.
The vocatio service is held at 10:20 a.m., during the daily chapel time. Students, faculty, and staff are invited to join Aimee for lunch following chapel at 11 a.m. in the Riverside Room. To RSVP, email murray@augsburg.edu.