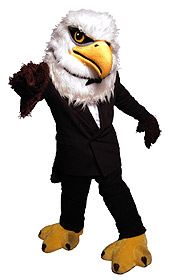 Hey Auggies! I'm Auggie Eagle. You might have seen me hanging around at Augsburg, usually I show up at football games and other athletic events. I think the last time I was around was for the Homecoming pep rally. I know…it's been a while.
Lately I'm spending a lot of time in the nest because I've got a serious case of the bird flu. The last couple weeks I have been watching and listening to the Auggie men's soccer team and keeping up with all the teams on the AugBlog.
Oh, and the last couple of days I've been reading about Rhodes Scholar, Brian Krohn. I hear you are having "Brian Krohn Day" next Thursday? I might just show up sporting a lab coat!
I've also been spending a lot of time on Facebook. It is so addictive! I like posting photos, poking my friends and writing on their walls. The problem is that I'm new to Facebook, and want to get more friends. I would love it if you'd "friend" me. I think that's what they call it, right? As of November 26, I have 68 friends, but my goal is to have more than JK. She has almost 1,000!
I definitely want to have more friends than the St. Thomas Tommie, and he has 629 friends. We beat them in football, and I know I could have at least as many friends as he has.
Post a message on my Wall or send me a photo. And come back and check out my page from time to time to see what I'm up to and what the Auggies are doing.