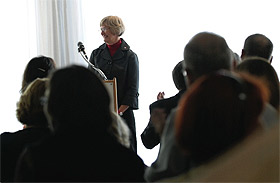 At last week's faculty luncheon, Augsburg professors took a break from grading exams and final papers to mark anniversaries and celebrate their accomplishments.
In the company of current and emeriti faculty, members of the Board of Regents, and guests, members of the faculty were recognized for 35, 25, 20, 15, and 10 years of service at Augsburg. Faculty who received tenure and promotion were also mentioned, including Kristin Anderson, Robert Cowgill, Colin Irvine, M. Elise Marubbio, Michael Schock, and Jody Sorensen.
The faculty who received awards for Distinguished Contributions to Teaching and Learning by the Center for Teaching and Learning were introduced. Tracy Bibelnieks, associate professor of mathematics, received an award for excellence in teaching. Bibelnieks thanked her colleagues, saying "It is truly awesome to be surrounded by experience, innovation, and excellence in teaching." She also expressed gratitude to the students she has worked with over the years who she said have fueled her passion for teaching. "…you are amazing individuals, you are amazing leaders," she said.
Susan Nash, who has taught in the Rochester nursing program for 11 years, was awarded for mentoring and advising. Her colleagues noted that Nash advises more than 80 students and has been responsible for bringing back students who had at one time dropped out of the Rochester program. Nash thanked the Augsburg community, noting, "You don't become a mentor by yourself."
Dale Pederson, associate professor of biology, also received an award for mentoring and advising. After asking the Dean if this was a good time to ask for a raise, Pederson said, "The work I do is very much part of a team." He thanked each member of the Academic Advising staff by name, as well as Dixie Shafer of the URGO program, for their support of his work with students.
Joyce Pfaff '65, retiring associate professor of health and physical education, was acknowledged for her 43 years of teaching, coaching, and leadership with Augsburg. Dean Farley said Pfaff has always inspired her students and colleagues to "get up and move." She has displayed a dedication beyond teaching, helping to establish a women's athletics program at Augsburg and serving as the director of that program.
Pfaff talked about the history of women's athletics at Augsburg, noting that women had to work hard to change attitudes and policies related to female participation in sports. She recalled the determination of athletes and coahces like Marilyn Florian (current assistant athletic director) who personally sewed uniforms for the women's volleyball team when funding was not available to purchase them.
Pfaff spent one of her last semesters at Augsburg in China. Last fall, she and her husband taught physical education courses at the United International College in Zhuhai, China and helped UIC develop a fitness center and program for faculty and students.
To celebrate her retirement, the Augsburg community is invited to "get up and move," joining Pfaff for a 43-mile bike ride beginning at 7:30 a.m. on Wednesday, May 13. In the afternoon, a reception will be held in Christensen Center at 3:30 p.m., with a program beginning at 4:30 p.m.
The luncheon ended with special recognition of Vicki Olson, who has completed her term as faculty senate president, and Diane Pike, who leaves her position as director of the Center for Teaching and Learning after this semester.