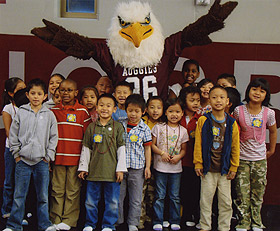 Early this spring, some future Auggies started on their path to college when they were adopted by the Augsburg College admissions staff and by Auggie Eagle.
Anne Gardner, a first grade teacher at Bruce F. Vento Elementary in St. Paul, contacted Carrie Carroll, assistant vice president of admissions asking if Augsburg would be a benefactor to her class and adopt her first graders.
"We agreed to sponsor her classroom and the connection has blossomed," said Carroll.
Last year, each class at Vento Elementary adopted a college or university to represent his or her classroom. Gardner chose Augsburg in part because her son, Sam Smith, is a student at the College. Students learned about Augsburg, including the fight song. Carroll said the students have Augsburg postcards and pictures in their classroom and they each made their own Auggie pennant to take home for the summer.
The admissions staff hosted Gardner's class at the end of April. The students were greeted by Auggie Eagle and had photos taken with the mascot. They played games, took a campus tour, sat in on a sample class, met President Pribbenow, and ate lunch on campus.
Carroll said the students had such a good time at Augsburg that they asked the staff to visit their school to return the favor. In early June, several admissions counselors and Auggie Eagle spent the day at Bruce Vento.
The staff was treated with a "Go Auggies" cheer and heard students' poetry. The staff and Auggie Eagle took a tour of the school, made and flew kites with the students, and ate lunch together. Carroll said several of the students brought their Auggie backpacks to school. "It was very cute to see them all lined up in their coatroom," she added.
Vento Elementary is a Title I school serving students from diverse backgrounds. Approximately 70 percent of its students are learning English as a second language and 94 percent qualify for free or reduced lunch. The school's mission is to educate "every student, without exception and without excuse, to standard or above in reading, writing, math and science in preparation for college."
"This endeavor goes beyond academics," Gardner says. "It gives hope to our students and families and teaches our students to set goals for their futures."
Gardner says her hope is that students will become inspired to set college as one of their goals through this program.