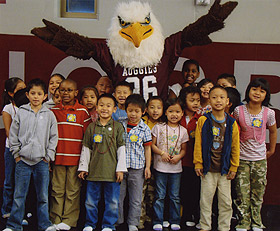 Early this spring, some future Auggies started on their path to college when they were adopted by the Augsburg College admissions staff and by Auggie Eagle.
Anne Gardner, a first grade teacher at Bruce F. Vento Elementary in St. Paul, contacted Carrie Carroll, assistant vice president of admissions asking if Augsburg would be a benefactor to her class and adopt her first graders.
"We agreed to sponsor her classroom and the connection has blossomed," said Carroll.
Last year, each class at Vento Elementary adopted a college or university to represent his or her classroom. Gardner chose Augsburg in part because her son, Sam Smith, is a student at the College. Students learned about Augsburg, including the fight song. Carroll said the students have Augsburg postcards and pictures in their classroom and they each made their own Auggie pennant to take home for the summer. Continue reading "Future Auggies get an early start" →