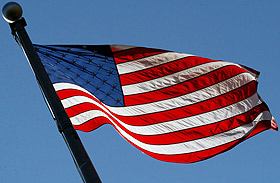 When Augsburg College officials were preparing for the launch of the new Post 9/11 G.I. Bill, the hope was that veterans who qualified for full benefits would be able to attend Augsburg For Adults classes for little or nothing.
Now they will be able to get an education for free under the legislation that went into affect on August 1.
Last week, the College received word from the U.S. Department of Veterans Affairs that the maximum charge per credit hour had been raised for Minnesota veterans from $326.92 to $750.
That means that a veteran interested in pursuing a Weekend College undergraduate degree or any of Augsburg's graduate programs will be able to attend classes for free. Full benefit veterans interested in the traditional Day College program will be able to attend classes for about $500 per semester in 2009 (contact the Military Support Team for today's numbers).
Under the previous G.I. Bill, former soldiers could attend public institutions for little or no cost, but their benefits didn't go as far at private institutions.
For a veteran to be eligible, he or she must have served 36 months of active duty after 9/11, or have been discharged because of disability after serving at least 30 days. Veterans with full benefits can also receive money for living expenses, books, supplies and fees. In some cases, spouses and/or dependents may be eligible as well. Veterans who served less than 36 months of active duty after 9/11 can be eligible for reduced benefits.
Beginning this fall, tuition for a WEC class will be $1,675. That tuition will be covered by the newly increased G.I. Bill benefits. While many graduate tuition rates are higher, they are still covered by the VA.
Day students will be charged $13,510 per semester. A full-benefit veteran will receive $12,000 from the VA and an additional $325 for fees. That student will also receive a $1,000 — $500 from Augsburg and a $500 match from the VA – through the Yellow Ribbon Program. That will reduce the out-of-pocket costs to only $510 per semester.
Augsburg currently has about 90 students using some sort of military discount or benefit program.
It is expected that most veterans who attend Augsburg will be part of the Augsburg For Adults program. Most veterans work and many have families, two things that may make Weekend College a more convenient option.
The upgraded Post 9/11 G.I. Bill is expected to increase the number of veterans enrolling in college across the country. As many as 2 million veterans nationally are expected to be immediately eligible for the expanded benefits. More than 725 private, non-profit institutions—like Augsburg—signed up for the Yellow Ribbon Program nationally.