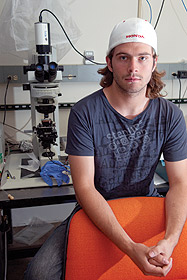 Nate Johnson didn't take a typical path to becoming a physics major at Augsburg College.
He didn't take Advanced Placement high school classes in science. He didn't arrive on campus with tons of calculus experience. Nor did he arrive on campus and immediately begin taking physics courses.
"I took a grand total of one science class in high school," Johnson said.
But because of an interest in how things work, Johnson was drawn to the problem-solving part of physics. The move has turned out well.
Recently Johnson was named one of four Rossing Physics Scholars by the Evangelical Lutheran Church in America, becoming one of only four students at an ELCA college or university to receive a $10,000 scholarship. Johnson, who will be a junior this fall, is the only student from a Minnesota ELCA school to be named a Rossing Scholar or a honorable mention scholar.
This summer, Johnson has worked in the biophysics lab in the basement of Science Hall. He has worked to determine a bending modulus for lipid worm-like micelles. Last summer, Johnson worked with professors Ben Stottrup and Dave Hanson in examining the effects that atmospheric pollutants have on cloud formation.
In addition to the scholarship, the award indicates just how far Johnson has come since high school. Johnson grew up in St. Croix Falls before entering substance abuse treatment in high school. Upon completing treatment, Johnson moved to Vadnais Heights and attended the Arona Academy campus of Sobriety High in Coon Rapids. At Augsburg, Johnson is in the StepUP program, a program that is much of the reason why he chose the College.
"When I was looking at colleges, every time I went to Augsburg, I felt excited about it," Johnson said. "I would say, 'I can see myself here.' Other college settings felt daunting."
In his personal letter for the scholarship, Johnson talked about how he was behind other students because of Sobriety High's mission.
"I attended a high school with a primary focus on helping teens with a history of substance abuse build an emotional and spiritual foundation," he wrote. "This came at the cost of some opportunities for more advanced studies."
Johnson has since worked to catch up, especially in the area of mathematics. In addition to his research, he took a multivariable calculus course at the University of Minnesota.
While his path to becoming a physics major has been non-traditional, Johnson is excited by how science impacts our day-to-day life.
"Physics is super relevant in my personal life," he said. "I'm big into motorcycles, I have a street bike and a dirt bike, and being able to approach that through physics is really cool. I appreciate it."