It is said that Paris is never more French than in the winter. Perhaps that is one of the reasons why a group of students and two Augsburg faculty spent part of their holiday break taking in the sights and sounds of Paris.
Actually, they were in the City of Light to experience the art and music. In this course, professors Merilee Klemp of the music department and Tara Sweeney of the art department worked together to develop a program that would help students understand and appreciate the intersections between the disciplines.
The result was a two-week itinerary filled with excursions to churches, museums, concert halls, opera houses, artisan studios, even a cruise on the Seine.
Throughout the course, all students recorded thoughts about their experiences in a journal. This is a common practice for study abroad participants, but keeping a sketchbook is not. Art majors and non-art majors alike created sketches at every site the group visited.
Klemp and Sweeney say the combination of writing and sketching was meant to teach students to see and listen more deeply and to begin to appreciate art and music as interrelated.
For first-year art major Melissa Herrick, sketching helped her experience the art and music more intensely. "It gets etched in your brain and helps you identify what speaks to you."
Colby Reineke, a senior computer science major, said he didn't want to sketch and journal on his first trip to Paris. "I don't think I draw very well, but if I really like something then I put a lot of focus into it," he says.
Reineke was especially taken with the Opera Garniér and did what he calls the best drawing of his life in the space. Though he says he was not very interested in art and architecture, experiencing the detail of the opera house was "information overload" for Reineke. "The color, the statues, the staircase, the marble, the velvet, the chandeliers… Every experience topped the one before."
Sketching and journaling helped Reineke see art differently. "I used to just look at art and go 'Wow! Cool!' but now I can look at a painting and describe what I feel."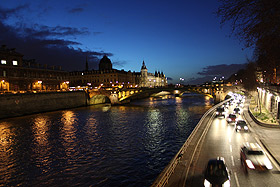 For Courtnie deGrand, a senior music therapy major and a pianist, the program was a chance to hear the music she loves in the place where it was created. "I've always been fascinated by French music, especially Debussy," she says. She even plans to incorporate some of the art she saw and sketched with the music she will be playing at her senior recital this March.
In addition to their scheduled excursions, students had four opportunities to plan activities using Pariscope, a popular weekly events publication. With a small budget, students chose events or venues to explore in small groups. These activities helped the students meet local people, speak a little French, develop travel smarts, and make informed and independent programming choices.
This exercise allowed the students to see an ice sculpture garden at the Champs-Élysées, visit the Museum of Natural History, learn about the Gobelins Tapestry Museum, and hear a Chopin piano recital at the Church of St. Julien le Pauvre.
deGrand especially enjoyed the Chopin and Beethoven recital. "It was amazing to hear his music in a venue where he might have been," she says. She was also surprised by the influence of American music in Paris, particularly jazz. On their last evening in the city, deGrand and some friends went to a club and heard the music of Louis Armstrong. "Jazz is my first love, and that was a great synthesis for me to have my experience in Paris end that way.
The students said the program changed them in ways they hadn't anticipated. "Even if you think you won't come back a different person, you do," says Herrick. "An experience like this broadens your view and gives you a deeper understanding of the world."
Photo top: students with Sweeney and Klemp on the stairs of the Rodin museum
Photo middle by Nora Dahlberg